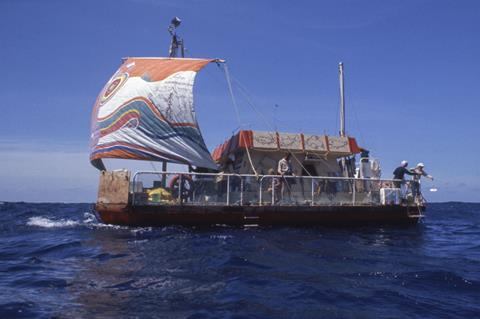 CPH:DOX's top award, the DOX:AWARD was presented tonight to Marcus Lindeen's The Raft (Swe-Den-US-Ger).
The film is about a social experiment in 1973, when 11 people were brought together on a raft for three months, sailing the Atlantic Ocean, so their behaviour could be studied by a radical Mexican anthropologist.
As well as using archive footage, Lindeen reconstructed the raft and reunited the participants together again in a film studio to look back on their experiences. The replica raft was also shown as an art exhibit at CPH:DOX headquarters at Kunsthal Charlottenborg.
The jury said the film is "a unique record of time and culture, of aging and ultimately, a monument to the courage of people formerly known as the weaker sex, who embark on a journey into the unknown. We cannot imagine a better metaphor for what it is we're all trying to do everyday in the documentary field."
The jury gave a special mention to América by Erick Stoll & Chase Whiteside.
The NORDIC:DOX Award went to Lykkelænder, Danish artist Lasse Lau's reflections on the relationship between Greenland and Denmark. The jury said the film "reflects upon historical imbalance with charm and playful questioning of those relationships in the present."
A special mention went to The Night by Steffan Strandberg.
In the NEXT:WAVE competition, the top prize went to Beautiful Things by Giorgio Ferrero & Federico Biasin from Italy. The jury said it was "an original film that marries boldness, style, meaning, precision and surprise."
Special mentions went to Bing Liu's Minding The Gap and Anat Yuta Zuria & Shira-Clara Winther's Conventional Sins.
The NEW:VISION Award went to Wild Relatives (Leb-Nor) by Jumana Manna, which the jury said had "optimism, empathy, and agility in engaging with the present."
A special mention went to Tinne Zenner's Translations.
The F:ACT Award went to Elizabeth Sylvia Mirzaei and Gulistan Mirzaei's Laila At The Bridge, about a woman in Kabul fighting the Afghan heroin mafia.
Each of those five winners receives $6,200 (€5,000).
The Politiken Audience Award – with a cash prize of cash award of $8,300 (50,000 DKK) – went to Katrine Philp's False Confessions (Den-Ger), about a Danish lawyer trying to prevent false confessions in the US legal system.