The documentary festival is also launching a fifth competition strand at its 2017 edition.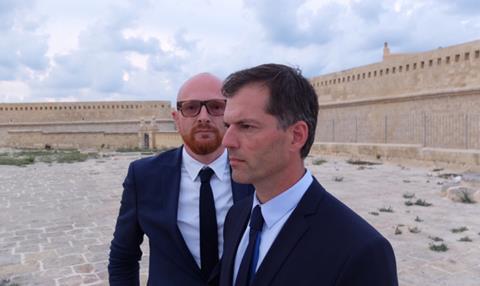 Scandi documentary festival CPH:DOX (Mar 16-26) has unveiled the films in its usual four competitions as well as introducing a new competition section.
World premieres announced across the competitions include Bridgend director Jeppe Rønde's The John Dalli Mystery [pictured], a Kafkaesque story with Mikael Bertelsen and Mads Brügger; Do Donkeys Act?, a film about unruly donkeys narrated by Willem Dafoe; Accidental Anarchist, about the British former diplomat Carne Ross who has transformed into an anarchist; Sigrid Dyekjær's A Modern Man, about violinist and model Charlie Siem; and Ben Rivers' Urth, about the failed ecosystem Biosphere 2.0 in Arizona.
Read Screen's festival preview here.
Other high profile documentaries to screen at the event include Matthew Heineman's Cartel Land follow up City Of Ghosts.
New competition NEXT:WAVE is launched to highlight international emerging talents "who have the courage to take chances and stand out."
The festival is taking place in March for the first time this year, shifting from its previous dates in November.
Full list of competition titles
NEXT:WAVE competition:
1996 Lucy and the Corpses in the Pool, Marcos Migliavacca & Nahuel Lahora (Arg). World premiere.
Janbal, Mina Bozorgmehr & Hadi Kamali Moghadam (Ir). World premiere.
You Are Still Somebody's Someone, Esther Wellejus (Den). World premiere.
I Promise You Never to Come Back, Pepe Gutiérrez (Mex).
A Variety of Shows for Various Events, Part I; Daniela Delgado Viteri (Ecu, Fra)
Phantom of Illumination, Wattanapume Laisuwanchai (Thai). World premiere.
Next Sommer, Alexander Lind (Den). World premiere.
Spin, Ginan Seidl (Den)
Tarrafal, Pedro Neves (Pol)
The main competition DOX:AWARD is for the best international documentary film:
What Young Men Do, Jon Haukeland (Nor)
Stranger in Paradise, Guido Hendrikx (Neth)
Do Donkeys Act? David Redmon, Ashley Sabin (UK, Can, Ire, US). World Premiere
Craigslist Allstars, Samira Elagoz (Fin, Neth)
Obscure, Soudade Kaadan (Syr, Leb). World Premiere
DRIB, Kristoffer Borgli (Nor)
The Third Option, Thomas Fürhapter (Austria). World Premiere
The John Dalli Mystery, Jeppe Rønde (Den, Nor). World Premiere
Last Men in Aleppo, Feras Fayyad (Den, Syr, Ger)
City of Ghosts, Matthew Heineman (US)
Rage, Dominique Lohlé & Guy-Marc Hinant (Bel, Fra). World Premiere
…When You Look Away, Phie Ambo (Den). World Premiere
Gray House, Austin Lynch & Matthew Booth (US). World Premiere
The F:ACT Award for investigative documentary has 11 films in contention, including six world premieres:
Accidental Anarchist, John Archer & Clara Glynn (UK). World premiere
Cause of Death: Unknown, Anniken Hoel (Nor). World premiere
Dead Donkeys Fear No Hyenas, Joakim Demmer (Swe). World premiere
Radio Kobanï, Reber Dosky (Neth)
The Unforgiven, Lars Feldballe-Petersen (Den). World premiere
Return Of A President, Lotte Mik-Meyer (Den). World premiere
The New Radical, Adam Bhala Lough (US)
Vape Wave, Jan Kounen (Swi)
The Force, Pete Nicks (US)
The Devil's Trap, Mitchell Stafiej (Can). World premiere
Trophy, Shaul Scwarz (US)
NORDIC: DOX includes 13 Nordic documentaries, including 10 world premieres:
Waiting For The Sun, Kaspar Astrup Schröder (Den). World Premiere
Lida, Anna Eborn (Den, Swe). World premiere
The Hotel, Kristian Petri (Swe)
Shapeshifters, Sophie Vukovic (Swe)
69 Minutes Of 86 Days, Egil Håskjold Larsen (Nor). World premiere
Thank You For The Rain, Julia Dahr (Nor). World premiere
The Strangest Stranger, Magnus Bärtås (Swe). World premiere
Childhood, Margreth Olin (Nor)
On The Edge Of Freedom, Anita Mathal Hopland & Jens Lengerke (Den). World premiere
Stay Behind – My Grandfather´s Secret War, Ida Grøn (Den). World premiere
Land Of The Free, Camilla Magid (Den). World premiere
My Mother Is Pink, Cecilie Debell (Den). World premiere
A Modern Man, Sigrid Dyekjær (Den). World premiere
NEW:VISION, for films experimenting in between documentary and artistic reflection.:
Common Carrier, James Kienitz Wilkins (US). World premiere
Purge This Land, Lee Anne Schmitt (US). World premiere
Life Imitation, Zhou Chen (Chi). World premiere
The Mærsk Opera, SUPERFLEX SUPERFLEX (Den). World Premiere
Xenoi, Deborah Stratman (US, Gre). World premiere
Desert of the Real, Christian von Borries (Ger). World premiere
Urth, Ben Rivers (UK). World premiere
The Flying Proletarian, Phillip Warnell (UK). World premiere
Maybe This Act, This Work, This Thing, Joachim Koester (Den, Bel, UK). World premiere
The Haunted, Saodat Ismailova (Nor, Uzbek). World premiere
The Lost Dreams of Naoki Hayakawa, Ane Hjort Guttu & Daisuke Kosugi (Nor). World premiere
No Trace of Accelerator, Emily Wardill (Port, Nor). World premiere
Nosferatu, John Skoog (Swe). World premiere