Syria doc Last Men In Aleppo will open the Copenhagen documentary festival.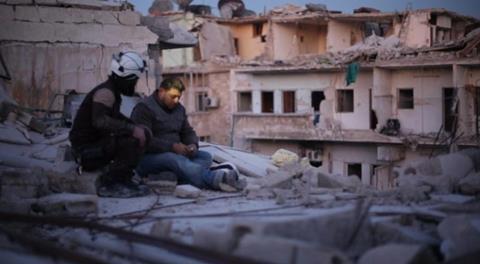 CPH:DOX has announced the full programme for its first spring edition (March 16-26), boasting 200 films including 75 world premieres.
The festival will open with Last Men In Aleppo [pictured], which was directed by Firas Fayyad and co-directed by Steen Johannessen.
Other highlights include a new cultural summit CPH:MEETINGS – about the political and social role of art in society; a VR cinema; a new children's programme; a new science section; a focus on the rise of populism; and an 11-film programme curated by musician Anohni.
Themes to be explored include the rise of populism and a "talk show" about the alternative facts of Donald Trump and Steve Bannon.
The children's programme will include titles such as Obscure about kids with PTSD; Childhood about a Norwegian kindergarten in the forest, and a film about Chinese children whose parents are in prison, Waiting For The Sun.
Anohni's picks include Jack Smith's short Scotch Tape, Andy Warhol's 1960s Screen Tests, John Waters' Pink Flamingos, Alain Resnais' 1955 Night and Fog, and recent New York Times short film 4.1 Miles.
Science selections include Voyage Of Time by Terrence Malick, Photon by Norman Leto, The Quantum Revolution by Vincent Langouch, and Food Evolution by Trace Sheehan and Scott Hamilton Kennedy.
Speakers at CPH:MEETINGS will include French philosopher Bernard-Henri Lévy, filmmakers Mads Brügger and Jeppe Rønde and founder of rock band The The, Matt Johnson.
Music events include a live concert on a boat for Homo Sapiens by Nikolaus Geyrhalter. Other on-location screenings include Sour Grapes screening in a wine cellar; hospital work film Burning Out showing at Rigshospitalet, and gardening documentary Wild Plants with a tasting and talk at BRUS.
Music-related films playing in the Sound & Vision programme include Cassette: A Documentary Mixtape, David Bowie: The Last Five Years, Eat That Question: Frank Zappa In His Own Words, Joe Cocker: Mad Dog With Soul, Mumford & Sons: We Wrote This Yesterday, Tokyo Idols and Where You're Meant To Be.
The festival, which formerly ran in November, has now moved to March dates and a new festival centre, Kunsthal Charlottenborg.
The festival announced its competitions last week..