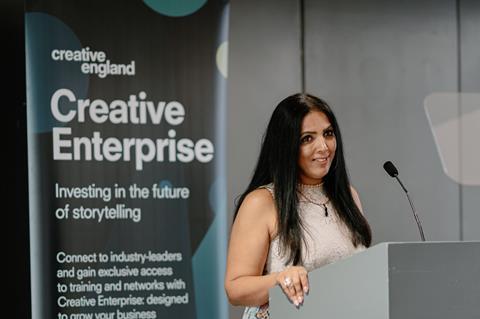 Creative Enterprise has opened the next round of funding applications across its five pre-existing programmes. Applicants must be based in the English regions, outside of London.
Creative Enterprise is a business and development initiative which aims to support the growth of screen-based companies, and is run by Creative England, which is part of Creative UK. The programmes are supported by the British Film Institute (BFI) with funding from the National Lottery. Since its launch in 2018 Creative Enterprise has since supported over 700 businesses and individuals, including providing over £1m in grants.
The Evolve programme is a nine-month scheme that is designed to help prepare screen businesses with high future potential to seek investment and growth capital, with direct access to leading industry experts and investors. One-to-one mentoring sessions, peer-to-peer group meetings and pitch preparation will take place. Applications close on June 17.
The Female Founders programme offers support, advice and professional coaching to female business owners, across a period of eight-months, and aims to help female entrepreneurs working in film, TV, games and tech to build, expand and future-proof their businesses. Applications close on July 29.
The New Ideas Fund offers grants of between £1000 and £25,000 to creatives and companies working across all screen-based industries, to develop innovative ideas and technology. Applications close on July 29.
The Business Planning Support scheme offers £5000 to support companies with the creation and implementation of business proposals and strategies. These funds are to subsidise the cost of acquiring the specialist expertise, knowledge and contacts needed to build a robust three-year business plan. Applications close July 29.
Games Scale Up supports games developers, publishers and support services with growth potential. Applications close July 29.
Mehjabeen Patrick, chief investment officer, Creative UK, said: "Creative Enterprise gives aspiring businesses the tools and training they need to unlock their potential and realise their ambition. Learning from peers, as well as expert industry-leading mentors, enables creative entrepreneurs to refine their business plans and IP [intellectual property], taking important steps towards securing future investment and growth."