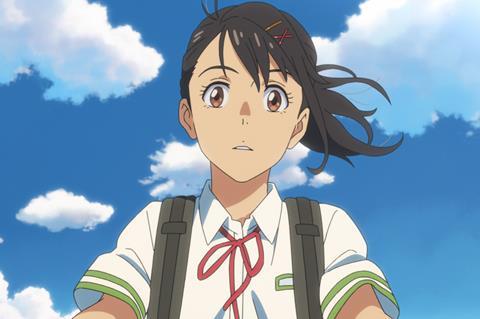 Anime streaming giant Crunchyroll has acquired global distribution and marketing rights (excluding Asia) for award-winning Japanese director Makoto Shinkai's upcoming working-titled animated feature Suzume No Tojimari.
The coming-of-age tale marks a sixth animated feature for Shinkai after breakout international hits Your Name (2016) and Weathering With You (2019).
The feature is produced by CoMix Wave Films, the Tokyo animation studio behind many of Shinkai's works, and Story Inc., which took credits on Weathering with You.
The deal between Crunchyroll and Japanese studio Toho, which handles worldwide rights, was brokered by French sales powerhouse Wild Bunch International (WBI).
Under its terms, Crunchyroll will team up with Sony Pictures and WBI on global distribution of the title. Crunchyroll will distribute the film in North America, while Sony Pictures and WBI will co-distribute in Europe. Crunchyroll and Sony Pictures will handle all other territories outside of Asia
Toho will release the production in Japan on November 11, 2022, and it will then be distributed in all other major territories from early 2023 onwards.
"It's with humility and honour that CoMix Wave Films, Makoto Shinkai, and Toho have decided to partner with Crunchyroll on the next masterpiece," said Rahul Purini, president of Crunchyroll, LLC.
"It's also an incredible opportunity to work with our partners at Sony Pictures Entertainment and Wild Bunch International to co-distribute this film across a wide swatch of territories. We know both animation fans and general audiences will fall in love with this prestigious film.
Suzume No Tojimari revolves around 17-year-old protagonist and is set in various disaster-stricken locations across Japan. Her journey begins in a quiet town on Japan's southwestern island of Kyushu where she unwittingly opens a single weathered door standing amid ruins, that sets in motion a destructive chain of events that only she can bring to an end.
Shinkai's 2016 feature romantic fantasy drama Your Name was a huge hit at home, achieving the second-highest gross for a local film after Hayao Miyazaki's Spirited Away and enjoying a high-profile international career to gross more than $300m worldwide.
His 2019 follow-up Weathering With You was also a commercial success at home and abroad. It went on to be selected as Japan's entry for the best international feature film category of the 2020 Academy Awards and was nominated in four categories in the 47th annual Annie Awards including best animated independent feature.
WBI has a long and successful track record working with Japanese animation having previously handled the international sales on Hayao Miyazaki's Spirited Away and all his subsequent films as well as, more recently, Earwig And The Witch, the third solo feature of Miyazaki's son Gorô Miyazaki.
"We consider Makoto Shinkai as a major artist with whom we wanted to work for a long time. He is a talented director that we welcome in our family of cinema masters and we feel proud to be able to bring his vision to the cinema world all around the globe," said WBI president Vincent Maraval.