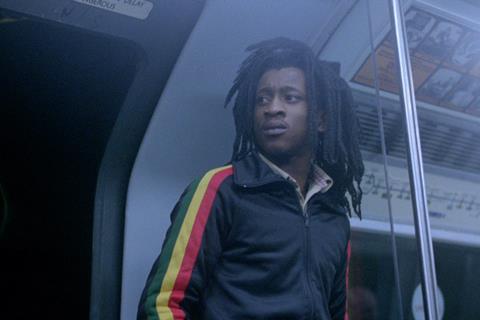 Nearly 40 years after it premiered in Cannes Critics' Week, cult British reggae film Babylon will get its first US release through Kino Lorber Repertory and new boutique distributor Seventy-Seven.
Franco Rosso's Thatcher-era drama about racial tension and police brutality stars Brinsley Forde, founder of British reggae band Aswad, as a dancehall DJ in south London who battles xenophobia, neighbours, police, and the National Front.
The film was deemed so incendiary that after screenings on the Croisette and the Toronto International Film Festival, top brass at the New York Film Festival passed.
Quadrophenia scriptwriter Martin Stellman wrote the screenplay after the BBC passed on a stage version he had written with Rosso several years earlier. "There was absolutely nothing that was about the life of young Londoners," said Stellman. "Absolutely nothing. We were operating in a complete vacuum."
Gavrik Losey produced and managed to convince Chrysalis Records and Mamoun Hassan, then head of the National Film Finance Corporation, to back the project.
Kino Lorber Repertory and Seventy-Seven, founded by Gabriele Caroti, the former director of Brooklyn Academy of Music's film program BAMcinématek, to focus on vintage, under-seen, and underappreciated content, have set a March 8 theatrical launch at BAM in New York. Babylon will expand nationwide on March 15, and launch on streaming, VOD, and home video after that.
Kino Lorber president Richard Lorber and director of Repertory theatrical distribution and acquisitions Jonathan Hertzberg brokered the deal with AMBI.
"Like many of the films we champion on our Kino Lorber Repertory label, Franco Rosso's Babylon is a great movie from the past that remains relevant today and which, for various reasons, has flown under the radar in our country up until now," said Hertzberg.
"When we found out that our friend and collaborator Gabriele Caroti was as passionate about this lost classic as we were, it was an easy decision to team up and ensure that the film's rollout is as tallawah – strong and robust – as it so richly deserves."
"Babylon forms the trinity of great reggae films alongside The Harder They Come and, Rockers, but this one's the best – toppa top," said Caroti. "It transcends. It's extremely powerful and very relevant 40 years later.
"When discovering it was never released stateside, I was shocked and then thought that I had to be the one to do it—also being an Italian expatriate reggae-head. So after leaving BAM, I started exploring that possibility and, lo and behold, my friends at Kino Lorber were as well so we've decided to join forces. I'm thrilled. It's been a dream to make this happen."