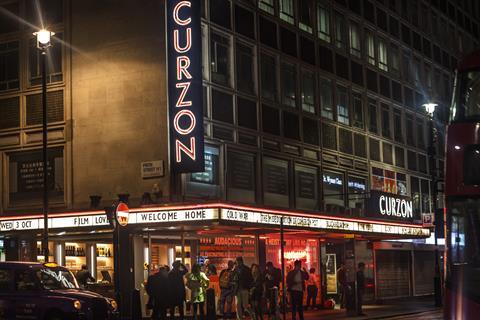 UK distributor and exhibitor Curzon is lowering ticket prices at its cinemas in response to "changing customer habits and the cost of living crisis".
From Friday (June 3), the boutique chain will reduce the cost of a ticket to as little as £8 during the day and £10 in the evening from Monday to Thursday. Curzon has also introduced free membership for under-25s, for whom tickets will be £5 all-day Monday to Thursday. Prices vary at different venues but the cost of a ticket at London's Curzon Bloomsbury was previously £17.50.
Curzon CEO Philip Knatchbull said the move had been taken due to "significant changes to the way customers are interacting with our venues" in the wake of the Covid-19 pandemic.
"With the increase in working from home and ongoing cost of living crisis, cinema risks becoming the preserve of blockbuster movies," he said. "But there is a breadth of brilliant films available and we want to ensure regular cinema attendance remains affordable."
While Curzon does programme tentpole titles such as Top Gun: Maverick, it leans more toward independent titles that have not always been on offer in great numbers over the past year as distributors catch-up following pandemic-related cinema closures.
Commenting on targeting younger cinemagoers, Knatchbull said: "It is clear that the younger generation has been hit hardest economically by the events of the last few years. Our new under-25 pricing and under-25 membership have been designed to bring through a new generation of film fans."
The lower prices will be applied throughout the summer but may well be retained for longer, according to a spokesperson.
Diversifying younger
Speaking to Screen last month, Knatchbull signalled that the company was diversifying younger. "Even in our distribution company, we're looking at a policy of acquisition that is starting to aim at a younger audience than we've ever done before," he said. "That will be reflected in the way we programme our cinemas as well."
Curzon — which was acquired by the US-based Cohen Media Group in December 2019 — operates 20 cinemas across the UK and often competes with nearby independent cinemas, many of which received support during the Covid pandemic from the Culture Recovery Fund, administered in England by the BFI.
Despite paying out more than £34m in support to hundreds of independent cinemas, the boutique chains were not included in this scheme, to the disappointment of Knatchbull. "I find that a particularly difficult decision, given that we are an incredibly important cultural beacon for film in the UK, and we were hurting enormously," he told Screen last month. "And there was no guarantee our American owners would want to put money into supporting us through this period."
Knatchbull went on to state that support from Cohen Media Group was not required but added: "It didn't seem it was consistent where there are other companies in a similar situation to us, owned by private equity, that were receiving government help. It was just expected that we were going to be funded by our American owners, and I don't think that was right."