UK independent cinema group Curzon is giving a major push to its recently relaunched VOD service Curzon Home Cinema with the release of Joe, starring Nicolas Cage.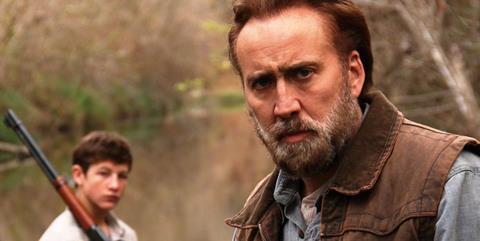 On the day it appears in UK cinemas (July 25), the David Gordon Green film will be made available for home viewing for £7.99 - less than the price of a cinema ticket at many venues.
Details of the launch plans for Joe were revealed today at a "Curzon Platform Presentation" at the company's new cinema in Victoria Street, London.
In the US, Joe is reckoned to have made four times as much on VOD as it did in cinemas.
"For us, it is about having recognisable names and faces in independent films," said Philip Mordecai, director of Curzon Home Cinema.
Curzon has acquired several other indie titles with well-known stars that will also be given day-and-date releases on the Home Cinema platform. Among these are Life Of Crime starring Jennifer Anniston and Enemy starring Jake Gyllenhaal.
The company, which has 23 screens, is continuing to bolster its cinema presence across the UK.
"We are rolling out new cinemas across the country. We will double our size in the next three years," Mordecai said.
Customised new Curzon cinemas will be opened later this year in Canterbury and in Sheffield, and the company is in talks to launch a new site in Scotland.
The company's landmark London site, The Renoir in Brunswick Square, will be re-launched as six-screen site Curzon Bloomsbury in the autumn. One screen will be a dedicated documentary screen.
At the same time, Curzon Home Cinema is also expanding fast. The service uses Easel TV's Suggested TV Platform. This takes advantage of Microsoft Azure Cloud services. Representatives from both Easel TV , Microsoft and PayWizard (which looks after payment processing for the platform) attended the presentation.
Mordecai emphasised the crucial part that curation plays on the Home Cinema platform, which launched in late May. "There is nothing generic about anything we do," he said.
The Home Cinema director acknowledged there had been opposition in certain quarters to day-and-date, multi-platform releasing.
"Hollywood itself is resistant to break the traditional window model," he said. "They would like to do it but it's the multiplexes, the theatres and the big chains that don't want to do that yet. That's where they make a lot of their money, through the Transformers and big Hollywood franchises."
As a vertically integrated company with a distribution arm as well as its own cinemas, Curzon is able to experiment with day-and-date releasing more adventurously than many of its rivals.
While he would not divulge figures, Mordecai said that the release of Lars Von Trier's Nymphomaniac was a "huge success". Von Trier's film was given a "one night stand" event launch in cinemas and then became available on VOD seven days later.
Curzon Home Cinema is already available on BT and Freesat and is about to launch on another "major" pay-TV platform.