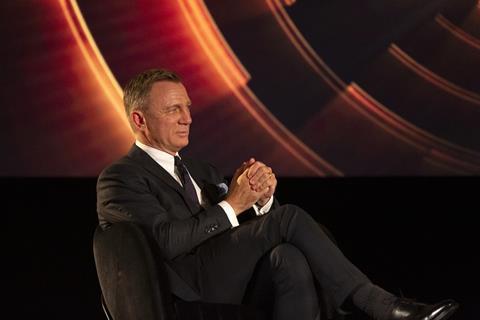 Daniel Craig addressed topics including the Knives Out sequels, the end of his tenure as James Bond, and the recent death of his friend and colleague Roger Michell, at a Bafta A Life In Pictures event in London this evening (Friday, September 24).
Craig wrapped filming last month in Greece on Rian Johnson's Knives Out 2 (unofficial title), the first of two sequels in a deal with Netflix worth almost $500m, in which he will reprise his role as master detective Benoit Blanc. The actor revealed that discussions have begun on extending the series beyond those two titles.
"I talked to Rian the other day; we've got this crazy deal with Netflix, that's great," said Craig. "I said 'What's beyond that?'; he said, 'Do you want to do another one?' And I was like, 'Yeah, if you will.'
"As long as we get the ideas, we'll figure it out; and as long as we're excited by it, and think other people will be excited about it, we'll keep doing it."
Craig was tight-lipped regarding Knives Out 2, which is now in post-production, saying only, "It's a Benoit Blanc mystery but it's different." He also said the film will involve Blanc taking on a separate case from the first film.
The actor said he is "involved" in discussions with Johnson about who makes up the starry ensemble cast alongside him. "Rian's really good at casting," said Craig. "I'm involved in the sense that we always talk about the process, and certainly where we go with the next one."
However, work on the third film is not imminent. "We're a long way off doing that – we're throwing ideas around."
Goodbye to Bond
Six days from the world premiere of his final outing as James Bond in No Time To Die, Craig spoke with fondness about the five films in which he has played the character.
Having previously said that 2015's Spectre would be his final outing as the iconic spy, Craig said he was "so happy" that producer Barbara Broccoli persuaded him to come back – "bullying me", he joked.
The film has been delayed several times since 2019 – first due to Danny Boyle's departure from the project, then repeatedly due to the pandemic preventing a full theatrical release in many territories.
"We've been waiting for years to get to this point; thank goodness we're here and we can actually get the movie into cinemas and get people to see it," said Craig. "We made it for an audience – I'm desperate for people to see it."
Craig discussed changing his mind about taking on the role in 2005, after initially declining the advances of producers Eon Productions. "One of my closest friends said 'This doesn't happen to people, you're going to regret it for the rest of your life if you don't do this,'" said the actor. "Sitting in a bar going 'I could have been Bond!' And now it's just going to be 'I was Bond,' which is worse!" he joked.
The script for 2006's Casino Royale, and its evidence of a change of direction for the series, was the major factor in his decision. "I kept saying 'Show me a script and I'll make a decision' – the arrogance of myself!" recalled Craig. "I was expecting it to be a [typical] Bond script and I'd go, 'It's not really for me.' And it was Casino Royale – it was blinding."
"I said to Barbara, 'If you give me a say here, a responsibility, I can come on set and pretend to be James Bond… If you let me discover it, and I can act it,'" said Craig. "Never forgetting it's a Bond movie; I didn't want to make Hamlet, and we didn't."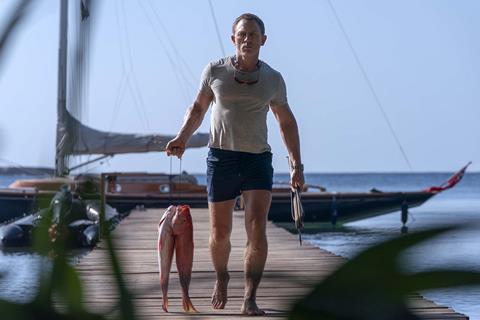 He addressed his desire to bring in Phoebe Waller-Bridge to polish the script for No Time To Die in April 2019, saying the aim was "to have a strong female voice."
"We've been desperately trying to get that, and I think we've achieved it more [in No Time To Die] than the others; we were trying in those films," said Craig. He recalled saying "Get the best we can" to Broccoli. "Gender aside, [Phoebe] is up there with the best. All I've wanted to do – [collaborators on Bond] have to look and sound and feel the best that we can do."
He would not be drawn on a successor, quipping, "You know what – it's not my problem!"
Roger Michell
Bafta host Edith Bowman went back over Craig's career throughout the course of the 90-minute talk; including two films he made with UK director Roger Michell, who died on Wednesday aged 65.
"The sadness is that we kept on talking about the fact that we'd make a third [film], but we never got the chance," said an emotional Craig, paying tribute to Michell.
"Someone said to me working with Roger was like taking a long, warm bath," he added. "He was just delicious. We'd do a couple of takes, and he'd go 'I've got that now, but why don't you do just do one for you?' His technique was 'let it happen'."
Discussing The Mother, the first of the pair's two collaborations, Craig said, "It was another film I didn't want to do; and Roger said, 'You're the only person for this.'
"That faith was… I don't know what to say… I might struggle through this bit" continued the actor, before his speech tailed off.
Craig delighted the audience with a host of Bond-related personal trivia, including his favourite of the films he is in – Casino Royale - and the line that swayed him into taking the part ('Do I look like I give a f***?' from the Casino Royale script, eventually changed to 'Do I look like I give a damn?' in the final film).
When asked if he would like to direct a film one day, Craig initially responded "No way," before softening his stance to "maybe."
Universal Studios will release No Time To Die on September 30 in the UK and Ireland as well as multiple European territories. The US release is on October 8.