In the wake of today's announcement he is leaving Studiocanal UK in September to launch his own production company, CEO Danny Perkins spoke to Screen about his Studiocanal legacy and future plans.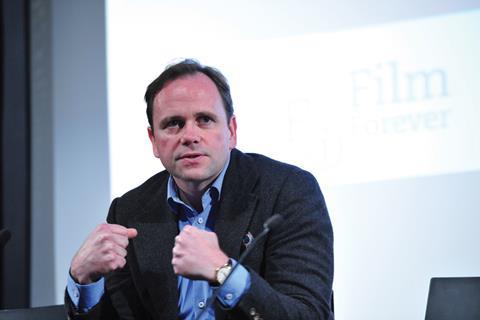 Perkins says conversations about evolving or changing his role first began about eight months ago, around the time of Paddington 2's release. While different proposals were mooted which would have seen Perkins remain part of the organisation, "ultimately we've arrived at this as the best way of doing things in the future, which is me being independent of Studiocanal".
"I'm at an age where I've got an itch to scratch in starting something new, in building another business. It's been a 19-year journey for me – seven years with Optimum and 12 years at Studiocanal – and I think the company's in really good shape. We've just moved into the new office being amongst the Vivendi companies, and I feel like, having delivered a franchise in Paddington and with the Aardman [Animations] films, it's well set for the future and it's the right time for me to step off and build something myself."
Perkins confirmed he will be taking several projects he had put into development at Studiocanal with him to his new venture, although he couldn't confirm which ones at this stage. "We're still working on that but I've got the makings of a strong slate," he declared.
Regarding the new venture, Perkins wasn't in a position to reveal details beyond the fact it will be focused on production and won't contain a distribution component.
He did confirm after he leaves the company, he won't have any involvement with the significant Studiocanal IPs that have been generated during his tenure, namely the Paddington franchise and Aardman projects. While details of his future relationship with Studiocanal are yet to be finalised, a first-look deal with his new venture was certainly one option. "Everything's on the table at the moment. I'll always have a relationship with them but the formalities of that we can't announce yet."
Career and legacy
Perkins began his career as a marketing executive at the Feature Film Company in 1996. He formed Optimum Releasing in 1999 with Will Clarke and Paul Higgins, taking the role of head of distribution. French giant Studiocanal, part of the Vivendi-owned Canal Plus Group, purchased Optimum in 2006 and Perkins was named CEO in 2010, one year before the outfit was re-branded under the name of its parent company, with Perkins subsequently taking the position of Studiocanal UK CEO.
Over the last eight years, Perkins has overseen the production and UK releases of titles including mega-hit Paddington, which grossed £38m ($50m) in the territory, its sequel Paddington 2, Tinker Tailor Soldier Spy, Legend and Macbeth.
In 2016, he was given the expanded role of overseeing UK production with an eye to increasing the company's portfolio of UK-produced films. Further in-house productions have included the family animations Shaun The Sheep Movie and Early Man, both from Aardman Animations, Our Kind Of Traitor, The Mercy, Idris Elba's Yardie and The Guernsey Literary And Potato Peel Pie Society, which grossed £5.8m ($7.6m) earlier this year in the UK.
At the start of this year, he also took over as acting head of UK production following the departure of Jenny Borgars to Pathe, who had occupied the post since 2008.
"Having people come in and talk about ideas or pitch scripts or treatments, and seeing those ideas being realised onto the screen, has been the best thing," said Perkins. "I feel like my main influence has been at that end of things and that's what excites me going forward."
During his tenure, he has overseen the release of titles such as Submarine, Four Lions, In The Loop, This Is England, Rush, A Prophet, Spirited Away and Pan's Labyrinth, as well as a number of heavyweight awards contenders including Carol, Manchester By The Sea, The Wrestler, The Hurt Locker, Hell Or High Water and Room. Since 2001, Optimum and Studiocanal UK releases have won 24 Bafta awards out of a total of 114 nominations.
Along with the several hundred theatrical releases and more than a thousand home entertainment titles he has overseen in his career, Perkins has also built a legacy for supporting emerging and established filmmaking talent including Ben Wheatley, Paddy Considine, James Marsh, Rian Johnson, Todd Haynes, Hayao Miyazaki and Lynne Ramsay. Studiocanal UK financed Paul King's debut feature Bunny And The Bull, beginning a collaboration that led to King taking the reins on the Paddington franchise.
Off the back of the success of Paddington, Perkins oversaw Studiocanal's acquisition of the brand rights to the Paddington IP, leading to its 2017 sequel, which grossed £43m ($57m) in the UK, and the forthcoming Paddington 3.
During Perkins' tenure, Optimum and Studiocanal generated £470m ($621m) at the UK box office. Further successful UK releases under Perkins' watch include Kray brothers biopic Legend, which grossed £18.4m in 2015, The Imitation Game which took £16.4m in 2014, and Tinker Tailor Soldier Spy with £14.2m in 2011.
But while the company's move in recent years into the family arena with the Paddington franchise and Aardman collaborations had paid handsome dividends, it had also struggled in an increasingly challenging market with pricey UK acquisitions like Martin Scorsese's Silence (£2.3m), Gold starring Matthew McConaughey (£745,000) and The Lost City Of Z (£700,000) and in the past couple of years had significantly scaled back on the volume of releases (a strategy Perkins says he supported).
He denies, though, that a challenging distribution landscape played any factor in his departure. "I've been in the industry for about 20 years and everyone has always talked about how tough [UK distribution] is," he said. "The market is particularly polarised now but if you look at the general trend on admissions, there is business to be had. We've shown that we can reach big audiences with independent films, and we've shown that particularly with what I would describe as British event movies. The bull's-eye is smaller than ever but the rewards of hitting that bull's-eye are bigger than ever."
Studiocanal UK
Studiocanal wouldn't confirm a timeline for appointing a new UK CEO, or any candidates under consideration, but indicated an announcement could take place over the summer before Perkins formally exits.
Maxime Saada, CEO of the Canal Plus Group and Studiocanal chairman, sent an email this afternoon to Studiocanal employees informing them of Perkins' departure and emphasising the company's continued support for a strong UK operation, stressing that the company remained committed to the development, production and distribution of films in the UK.
"This moment of emotion marks a milestone in the life of Studiocanal UK," wrote Saada. "But our ambitions in the UK do not change. On the contrary. Great Britain is an essential territory for Studiocanal due to the economic weight of its market (theatrical, home entertainment, SVOD, etc.) and the very strong links we have developed locally with many world-class talents."
"Studiocanal UK will continue to play a leading role in the production and distribution of films with a strong international focus, in line with the European vision of Studiocanal and Vivendi," Saada added. "The recent move of our UK teams to brand new premises shared with other Vivendi entities (UMG, Gameloft, Havas, etc), for me, is another sign of the great importance and our commitment to our UK operations."
This comes amid several rumours swirling around the industry on both sides of the Atlantic that Studiocanal might be planning to scale back on distribution in the UK to focus on production, or possibly fold its distribution operation altogether via a merger or sale to another company (with Lionsgate reputed to be an interested party). A Studiocanal spokesperson denied any of the above as options the company is exploring.
Upcoming releases on Studiocanal's slate include The Secret Garden, starring Colin Firth and from Paddington producer Heyday Films, animated sequel Shaun The Sheep Movie: Farmageddon, and Marie Curie biopic Radioactive starring Rosamund Pike. Yardie will be Perkins' final release as CEO, reaching UK cinemas on August 24.
Perkins' departure follows in the wake of the recent move of UK arm into swanky new headquarters in Pancras Square in north London, alongside Canal Plus-owned Universal Music Group, as well as other senior management changes at Studiocanal in recent years. In September 2015, long-serving chairman and CEO Olivier Courson was ousted from the company and replaced by Didier Lupfer. Courson was followed by COO/CFO Romain Bessi in July 2016.
Future
Perkins will leave Studiocanal UK with strong personal relationships across the UK's independent film production scene, including with Working Title Films, Aardman, Heyday Films, Blueprint Pictures, Warp Films, Big Talk Productions and See-Saw Films, as well as with international companies such as Amazon Studios.
"The relationship with Amazon evolved as their business evolved. They've been hugely supportive of our production ambitions in the UK, and that has developed to the point where Radioactive is a full co-production with Amazon. It's been a great partnership," he said.
Regarding his own independent venture, Perkins' eyes are firmly on continuing along the very successful production path he carved at Studiocanal. "The biggest success that we've had is with strong British stories that can travel, everything from Tinker Tailor to Rush to Paddington to The Imitation Game, and that's the area that I want to concentrate on and that's the area of films that I understand the most," he said. "I'm keen to do British films with scale that can travel internationally."
He added: "I want to work with good people and on things that I'm passionate about. I've been lucky enough to do that through my career and I'm looking forward to doing that in a different vehicle going forward."