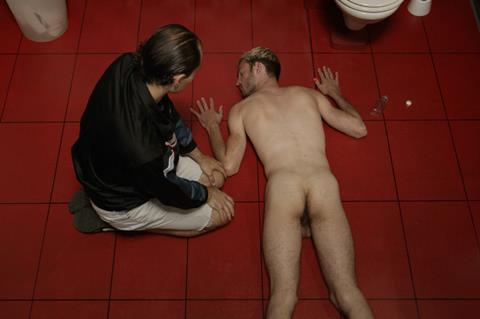 German distributor and sales agent missingFILMs has sold all rights for cult German director Rosa von Praunheim's latest feature Darkroom - Drops Of Death to TLA Entertainment for North America and to Optimale for French-speaking territories.
The thriller, which is based on the true criminal case of a serial killer from 2012, had its world premiere at the Mostra Fire in Barcelona in June and is screening in Germany for the first time at the Filmfest Hamburg in the Große Freiheit sidebar.
Veteran filmmaker von Praunheim was joined for the premiere in Hamburg by the lead actors, Macedonian-born Bozidar Kocevski and Heiner Bomhard, who have also both appeared on stage at the Deutsches Theater in Berlin in the director's play 'Jeder Idiot Hat Eine Oma, Nur Ich Nicht'.
Kocevski plays a male nurse from Saarbrücken, who moves to Berlin with his lover, played by Bornhard. Domestic bliss together seems possible as they renovate their flat but the nurse has been secretly checking out Berlin's nightlife. Within three weeks, three men die and two survive attempted murder.
Darkroom - Drops of Death is now going on to screen at film festivals in Chicago, Brussels and Paris.
missingFILMs previously handled international sales on von Praunheim's Friendship Of Men and Survival In Neukölln as well as releasing them theatrically in Germany. It will open Darkroom - Drops Of Death in Germany in January 2020.