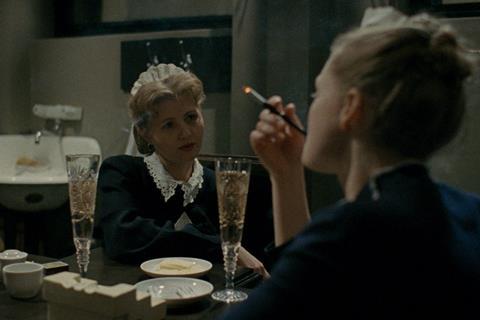 Four more DAU features are in post-production and ready to be unveiled at film festivals later this year and next, revealed Russian director Ilya Khrzhanovskiy, the co-director of DAU. Natasha, which is making its world premiere at the Berlinale tonight (February 26).
DAU. Natasha is the first standalone feature to emerge from the controversial multi-million dollar DAU immersive art project and is co-directed by Khrzhanovskiy and Jekaterina Oertel. Oertel was originally the head of makeup and hair design on the DAU project and took on an editing and co-direction role in post-production.
The features follow on from the films and video material shown in the DAU exhibition last year in Paris and as part of DAU. Degeneration, the 355-minute DAU drama screening as a Berlinale Special later this week. It is co-directed by Khrzhanovskiy with Ilya Permyakov.
Coproduction Office is selling DAU. Natasha as an individual film. "We are not forcing distributors to buy the five features," said Philippe Bober, CEO of Coproduction Office.
The company is open to cutting deals with distributors that may offer them a "first look" on the upcoming DAU films if they take Natasha.
Coproduction Office is also looking to work with distributors on "more than just the feature films." There are potential opportunities for these distributors to work with partners in the art world.
Distributors already aboard DAU. Natasha in advance of the Berlin premiere include Teodora Film in Italy and Avalon in Spain. Both are expected to release the film theatrically while also working on other DAU-related projects with partners from the contemporary art world. Bober said he is fielding multiple offers from other territories.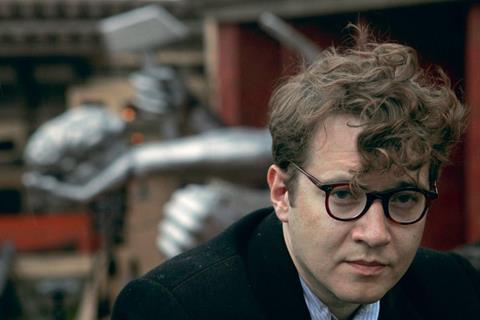 "A complicated arthouse movie"
DAU started as what Khrzhanovskiy calls "a normal, complicated art house movie" telling the story of Nobel prize-winning Russian physicist Lev Landau (1908-1968), who studied under Danish physicist Niels Bohr and was very close to Edward Teller. The project was pitched at the Rotterdam CineMart in 2006 and was put together as a co-production with partners Essential Films in Germany, Parisienne de Production in France, Phenomen in Russian and Plattform in Sweden. It received €600,000 in Eurimages backing.
"We started preparations in St Petersburg," Khrzhanovskiy says of what happened. " Then, one week before the shooting, I understood what I had created was a mistake. They spent a lot of money for sure. Then I went back to my producers and said 'sorry guys. I need to re-think everything.' There was a big row because they were very upset."
The director decided he didn't want actors but that he would work with real artists and scientists. That was when he built the 13,000 square metre set recreating a Soviet science institute in Kharkiv, Ukraine.
Khrzhanovskiy paid tribute to his benefactor and producer, the Russian oligarch and businessman, Sergei Adoniev, whom he met in 2007 and who has underwritten the project over the last 13 years.
"[Adoniev] saw my first movie 4 and he liked it a lot. He wanted to help me. He is a very special person," Khrzhanovskiy said. "When he financed shooting, everybody around him told him 'You idiot. He will never finish it. It's mad'. That was the common opinion."
The DAU project has received "tens of millions" from Adoniev. (The director can't give a precise figure but acknowledges it is "huge.") The Russian businessman left Khrzhanovskiy to his own devices and didn't impose any conditions in return for his investment.
"I asked him 'why do you give me so much money? Everybody told you [DAU] would never happen.'"
The director says Adoniev replied he believed in what Khrzhanovskiy was doing and didn't want to interfere. "He never wanted to be on any of the credits but now I force him," Khrzhanovskiy said of why Adoniev is now listed as producer.
DAU became so huge Khrzhanovskiy cast 352,000 people. He estimates as many as one in seven of the population of Kiev worked on the project in some capacity or other.
Natalia Berezhnaya, who plays the lead role of Natasha in DAU. Natasha, was working selling jackets when she was cast.
Khrzhanovskiy defended the sexually-graphic nature of one scene in which a female character is abused by a Soviet interrogator.
"In the cinema, you see much more provocative and aggressive things. The feeling, the knowledge that it is real [what is shown in DAU] gives you a completely different reaction," the director said of why the scene is provoking such a heated response.
He also revealed the original biopic of Lev Landau ('the mother movie' of the project as he styled it), will appear in due course. This will be on a bigger scale, he says, and will have music and more conventional editing than the films which have screened so far.
"We have Natasha here. We have another four or five movies that will appear…and then will come this 'mother movie' at the very end," said the director of what may finally complete the DAU cycle.