Deal sees DCM extend its market share of cinema advertising to 81% across the UK.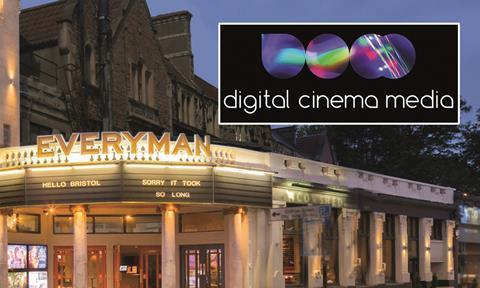 UK cinema advertising outfit Digital Cinema Media (DCM) is set to take over the advertising portfolio of indie chain Everyman Cinemas from current contract holders Pearl & Dean.
The deal sees DCM extend its dominance over the UK's cinema advertising scene following its acquisition of the Curzon Cinemas contract (also from Pearl & Dean) earlier this year. The company's estate now represents 81% of cinemas in the UK, with Everyman accounting for 1% of sites.
DCM will oversee Everyman's commercial portfolio as of December 12 this year. The company's roster also includes multiplex chains Cineworld, Odeon & UCI and Vue, as well as other independents including Picturehouse.
Everyman currently operates 19 venues across the UK, and will soon open new cinemas at locations including Chelmsford, Stratford-Upon-Avon and Kings Cross.
Digital Cinema Media's CEO, Karen Stacey, said of the Everyman announcement: "Here at DCM it isn't just about owning the ultimate screen in media; our focus has been on matching that with an unrivalled, premium service for our customers to make the experience as memorable as possible."
"I have always admired the Everyman chain and am very proud and excited to be begin working with the Everyman team from December onwards. The 2017 film slate offers some amazing opportunities for us to really make the most of the partnership by providing unique, premium experiences."
Everyman CEO, Crispin Lilly, added: "We're excited to work with DCM on our advertising and partnerships. The Everyman brand offers a unique opportunity to connect with aspirational audiences. Our focus on hospitality and experience also draws guests to the venues for a real evening out, a perfect match for DCMs quality digital on screen and sponsorship campaigns."