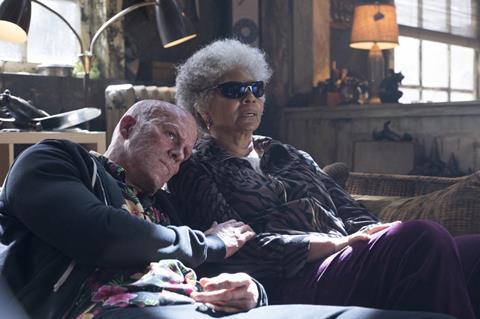 MAY 21 UPDATE: Deadpool 2 opened powerfully with a confirmed $125.5m at the North American box office this weekend, easily ending the three-week reign of rival superhero blockbuster Avengers: Infinity War.
With Ryan Reynolds returning as the snarky title character, Deadpool 2 arrived in 4,349 cinemas through Fox and fell just short of the $132.4m opening gross achieved by the original Deadpool (which went on to take $363.1m domestically) in February 2016. The opening worldwide tally was $300.4m.
The sequel – with David Leitch taking over as director and Josh Brolin joining the cast – scored the second biggest debut ever for an R-rated film in North America – the original being the biggest.
Avengers: Infinity War added another $29.5m (from 4,002 locations) to its tally, pushing its estimated domestic total to $595.8m after four sessions, making the Marvel Studios blockbuster the eighth biggest domestic release of all time, according to distributor Disney.
Paramount comedy Book Club made a good start as counter programming to the superhero outings, opening in third place on the chart with an estimated $13.6m from 2,781 cinemas. Diane Keaton, Jane Fonda, Candice Bergen and Mary Steenburgen star, and Bill Holderman directs. Bloom handles international sales.
Global Road's Show Dogs opened in sixth spot, with $6m from 3,212 locations. Will Arnett stars in the live-action/CGI animal comedy from director Raja Gosnell, with Natasha Lyonne and Chris Ludacris Bridges leading the voice cast.
Box office for the top 12 amounted to $202.9m and climbed 51.1% from last weekend, and 72.9% up on the corresponding weekend in 2017, when Alien: Covenant topped the chart with an opening take of $36.2m.
This week's only new wide release is Solo: A Star Wars Story, the second Star Wars Anthology release from Lucasfilm and Buena Vista, with Alden Ehrenreich, Woody Harrelson, Emilia Clarke and Donald Glover starring and Ron Howard directing.
Confirmed top 10 North America May 18-20, 2018
Film (Dist) / Conf wkd gross / Conf total to date
1 (-) Deadpool 2 (Fox) Fox International $125.5m -
2 (1) Avengers: Infinity War (Buena Vista) Walt Disney Studios Motion Pictures International $29.5m $595.8m
3 (-) Book Club (Paramount) Bloom $13.6m -
4 (2) Life Of The Party (Warner Bros) Warner Bros Pictures International $7.6m $30.9m
5 (3) Breaking In (Universal) Universal Pictures International $6.8m $29.1m
6 (-) Show Dogs (Global Road) Global Road $6m -
7 (4) Overboard (Pantelion) MGM / Pantelion $4.6m $36.9m
8 (5) A Quiet Place (Paramount) Paramount Pictures International $3.9m $176.1m
9 (7) Rampage (Warner Bros) Warner Bros Pictures International $1.6m $92.5m
10 (6) I Feel Pretty (STX) Voltage Pictures $1.3m $46.6m
Read more: