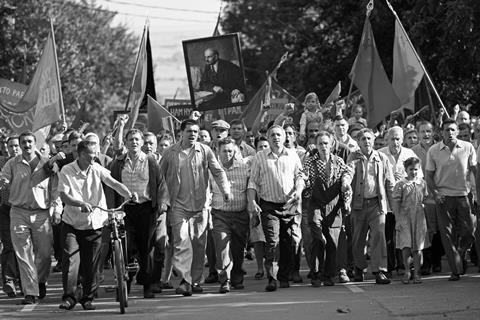 Russian director Andrey Konchalovsky has requested his film Dear Comrades! be pulled from the country's White Elephant Awards over its nomination of opposition leader Alexey Navalny.
The Russian Guild of Film Critics, which organises the awards, has nominated jailed Kremlin critic Navalny and his filmmaking team in the Event of the Year category for their video documentaries, which have generated millions of views on YouTube.
But in a statement on his Facebook page, veteran filmmaker Konchalovsky said the decision was a "political act" and "can in no way be judged according to the criteria of film art".
In response, the awards organisers said it considered all Russian films that received a release or press screening, but would not award Dear Comrades! in light of Konchalovsky's stance.
"The author has the right to decline the award, but cannot withdraw his work from consideration by the community of film scholars and critics," said the statement. "In this case, we regard A.S. Konchalovsky's position as a refusal to accept the White Elephant Prize. Should Dear Comrades! get more votes in one or several nominations, it will not receive the prize."
Viktor Matizen, chairman of the awards' council, also stated to the Open Media news agency that Konchalovsky's Facebook statement was itself "a purely political decision".
Dear Comrades! premiered in competition at the Venice Film Festival in 2020, where it won the special jury prize, and was submitted by Russia for the best international feature award, where it made the shortlist but not the final nominations.
The historical drama, which recounts a government massacre of striking workers in a small industrial town, had been nominated in six categories by the White Elephant Awards, which will be held online on Saturday (April 10).
Earlier this year, the series of investigative documentaries produced by Navalny and his team received support from the Union of Cinematographers and Film Guilds of Russia (KinoSoyuz) in an open declaration signed by such internationally renowned Russian directors as Alexey Popogrebsky, Alexei Fedorchenko, Vitaly Mansky and Viktor Kossakovsky.
KinoSoyuz declared that Navalny's films on state corruption, which include The Seagull, He's Not Dimon and Palace for Putin, have had "enormous resonance" and added: "They have been seen by more viewers than any domestic blockbuster, and have been praised by the professional film community."
Navalny went on hunger strike last week to protest prison officials' refusal to grant him access to proper medical care. He was arrested in January, on his return to Russia from Germany, where he had spent months recovering from being poisoned.