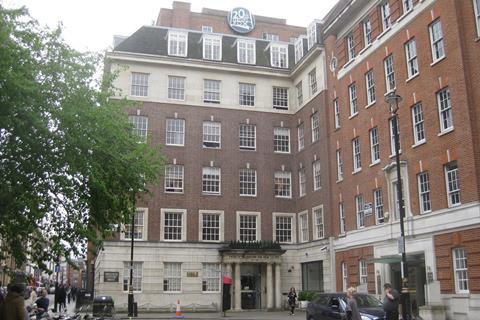 Controversial plans to demolish the iconic 20th Century Fox building in London's Soho Square have been revised but are still proposed to go ahead.
Twentieth Century House had stood as the UK headquarters of the US studio since it was built in 1936-7 but most staff have relocated following the Walt Disney Company's $71.3bn takeover of Fox's entertainment assets.
A planning application to demolish the building was submitted to the City of Westminster Council last year, which revealed proposals to construct a new building on the site, including retail and restaurant units as well as office space.
But the application, from owner Royal London Asset Management – a UK fund management company that is developing several properties across Soho – was greeted with outcry and a campaign to save the building was mounted by community organisation The Soho Society.
Royal London, from which Disney rent the building, has since revised the plans to retain part of the brick facade but still plans to move forward with the demolition and redevelopment. More than 50 comments of objection have been lodged with the council, which has set a deadline of June 2 (Tuesday) to file concerns on their website.
A Disney spokesperson confirmed staff have been relocated to other Disney offices, including the studio's European headquarters in Hammersmith and told Screen that the iconic 20th Century Fox neon sign, which has long sat on top of the building, will be preserved in the Disney archives.
The Soho Society have argued the property is an unlisted building of merit in a conservation area so it should be retained unless the new building is an improvement and claim the proposals do not enhance the existing structure.
Tim Lord, chair of the Soho Society, said: "This 1930's building has deep associations with the film industry and Soho's heritage and sits well in one of London's oldest squares which contains 16 listed buildings including Soho's only Grade 1 building, the House of St Barnabas.
"Demolition would involve at least two years of disruption and significant environmental costs. The new building is not an improvement. We have asked the freeholder Royal London to refurbish this high-quality building - as other buildings have done in the square very successfully. Soho Square is a significant heritage asset for Soho and London and should be preserved."
The organisation previously called on Disney to replace the historical lettering on the building's portico, which said "Twentieth Century Fox Film Co Ltd." and was removed in April. No action has yet been taken.