The German festival will screen Grimur Hákonarson's Rams, Tobias Lindholm's A War and Klaus Harö's The Fencer in its 2015 programme.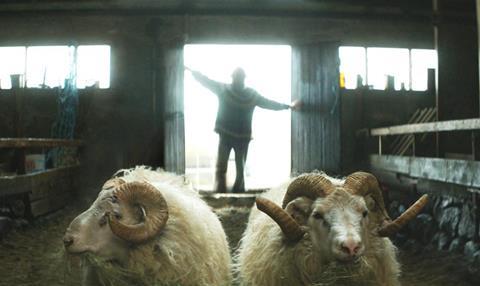 Denmark and Iceland dominate the main competition line-up at Germany's 57th Nordic Film Days Lübeck, which will open on November 4 with Icelandic director Grimur Hákonarson's Rams.
Speaking about the choice of opening film, featival director Linde Fröhlich described Rams as "a human drama filled with empathy for the protagonists as well as odd situations and comic moments, all set in a spectacular landscape."
Denmark is represented in the Feature Film Competition with five titles, including Tobias Lindholm's A War - Denmark's submission for the Foreign Language Oscar - Martin Peter Zandvliet's Land Of Mine, Chrisitina Rosendahl's The Idealist and Frederikke Aspöck's Rosita.
Three Icelandic titles have been selected: Rúnar Rúnarsson's coming of age drama Sparrows, made as a co-production with Denmark and Croatia, and Dágur Kari's Virgin Mountain as well as Hákonarson's Rams, which won the Un Certain Regard Prize in Cannes last May.
The 16-title main competition section also features Finland's Oscar candidate The Fencer by Klaus Harö, Swedish filmmaker Hanna Sköld's Granny's Dancing On The Table, and Mikko Kuparinen's English-language debut 2 Nights Till Morning.
International premieres of Elsa Kvamme's The Vanishing Act Of Einar, Jaak Kilmi and Sasha Kheyfets' Queue and Agusta Einarsdottir's Impact have been invited to screen in the Film Days documentary section, and the Specials sidebar will present new films by Bille August (Silent Heart), Mika Kaurismäki (The Girl King) and Joachim Trier (Louder Than Bombs), among others.
Moreover, this year's historical retrospective is dedicated to Nordic road movies in "Northern Journeys. Travelogues & Road Movies" with films by such directors as Ingmar Bergman, Fridrik Thor Fridriksson, Mika and Aki Kaurismäki as well as Karin Ottrasdottir and Auli Matila.
Curated by film historian Jörg Schöning, the retrospective will open with the world premiere of Hit The Road Gunnar by up-and-coming director Nicolas Ehret.
On the industry side, the Film Days - which is the biggest showcase of Nordic and Baltic cinema in Europe outside Scandinavia - will be hosting an international round table on audience engagement with Land Of Mine producer Malte Grunert (Amusement Park) and Hamburg exhibitor Matthias Elwardt (Abaton Kino) among others.
There will also be a documentary master class given by the Danish filmmaker Camilla Nielsson (Democrats) as well as the traditional MEDIA Meetiings where visiting Nordic producers will have an opportunity to discuss new projects with their German counterparts.