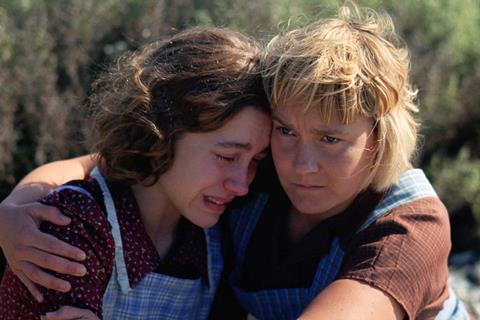 Goteborg's lucrative Dragon Award for best Nordic film has gone to Danish director Malou Reymann's second feature Unruly.
The drama premiered at Toronto and had its Swedish premiere at Goteborg. TrustNordisk handles sales and the Danish cinema release is planned for spring 2023.
Reymann previously directed Rotterdam Big Screen winner A Perfectly Normal Family.
Unruly is about the Sprogø Women's Institution in the 1930s, when "morally feeble" girls and women were sent to the island to become more compliant. The story focuses on Maren, an unruly 17-year-old who refuses to conform, and the spark she ignites in Sørine, who had been dutiful at the institution for six years.
The award comes with $38,000 (SEK 400,000), making it one of the world's largest film prizes.
The jury, led by Holy Spider actress Zar Amir Ebrahimi, said: "Although it is rooted in the past, it transcends time and borders, and speaks strongly to our time, our minds and hearts. A solid and mature work, a powerful voice – a timely story of separation."
The Dragon Award for best Nordic documentary also went to a Danish director – Lea Glob for Apolonia, Apolonia, her intimate portrait of her friendship with rising artist Apolonia Sokol. The film previously won IDFA's best film award. Cats&Docs handles sales.
The Blue Caftan by Maryam Touzani won the international competition.
Other winners in Goteborg were Alma Poysti as best actress for Four Little Adults; Runner by Marian Mathias winning the Ingmar Bergman competition; Jacob Moller from Copenhagen Does Not Exist winning the Sven Nykvist award for cinematography and Let The River Flow by Ole Giaever winning both the Fipresci prize as well as the audience award for best Nordic film.
Honorees in Goteborg included Jan Troell, the 91-year-old Swedish auteur, who received the Nordic Honorary Dragon Award. Ruben Ostlund, a new honorary president of the festival, held a screening of Triangle Of Sadness in which he directed a live audience.
Industry prizes and pitches
At Goteborg's TV Drama Vision, Norwegian writer Kenneth Karlstad won the 2023 Nordisk Film & TV Fond Prize for his series Kids In Crime, a gritty 8x22' coming of age drama for TV2 Norge.
The Love Pill won the best pitch at The Swedish Film Institute's new Talent to Watch showcase. Naures Sager's LGBTQ+ themed title looks at a dangerous pill that could help two friends fall in love with each other.
In Goteborg's Nordic Film Market, 15 films in post-production were showcased as works-in-progress, with Ulaa Salim's Eternal earning the buzziest response from buyers and programmers. The ambitious sci-fi drama reunites Sons of Denmark writer/director Salim with producer Daniel Muhlendorph of Hyaene Film. The story follows a climate-change scientist investigating a mysterious fracture on the ocean floor while also trying to win back his loved ones. One buyer described it as "a Nordic Interstellar." New Europe Film Sales handles the film and expects to start sales at Berlinale's EFM, with a festival launch expected later in 2023.
Sarah Gyllensierna's Hunters on a White Field, a suspense drama, started drawing attention of prominent sellers in Les Arcs and expects to close a sales deal soon. The story follows three men who plan a hunting trip deep in the Swedish woods; the hunt takes a dangerous turn.
Aiming for festivals in 2024 is the ambitious trilogy Sex Dreams Love by Norway's Dag Johan Haugerud, director of Beware Of Children, which premiered in Venice and won the Nordic Council Film Prize. The new Motlys production has already shot two features and will shoot the third feature soon. All the films will work as standalone titles but share similar themes of love, sex and inner longing in modern Oslo.
The works-in-progress also included previews of newcomers' personal and intimate stories, plus crowdpleasers from established talents such as Erik Poppe's Quisling – The Final Days; Ole Bornedal's sequel Nightwatch-Demons Are Forever and Mikael Hafstrom's Stockholm Bloodbath.
Across the features in development pitched at Goteborg, Tea Lindeburg, who won best director in San Sebastian with As In Heaven, discussed her second feature, The Seal Woman, a feminist update on a Faroe Islands legend. She reteams for the 2024 shoot with her As In Heaven producers Jesper Morthorst and Lise Orheim Stenderat Motor Productions, as well as DoP Marcel Zyskind. "It's my real-world version of a mythical love story," said New York-based Lindeburg, who plans to set the film during the 1970s.
Other in-development projects of note included actress Nanna Blondell's first feature as a director, Skin To Skin, a drama about a married woman exploring her racial identity and queerness with an intriguing woman she meets on holiday in the Swedish countryside. Blondell will star alongside Sverrir Gudnason (Borg vs McEnroe).
Gabriel Bier Gislason presented his second feature, No, wait, a drama loosely inspired by Icelandic folklore exploring life, death and love. Patricia Bbaale Bandak pitched Wannabe, about a young teenage refugee in small-town Denmark dealing with racism while dancing along to the Spice Girls; and Julia Thelin will make her feature debut with The Patron, about a woman who invents a new identity as an art patron.
Other industry highlights of the event included a panel about sustainable and inclusive support for new talents, presented in partnership with Cannes Marche's impACT and Goteborg's Nostradamus initiative. The 2023 Nostradamus report, usually presented in Goteborg, will instead be unveiled at Cannes in May.