A six-stage, $205m (£135m) film and TV production facility in Scotland could be open for business by early 2017 if plans submitted this week are given the go-ahead.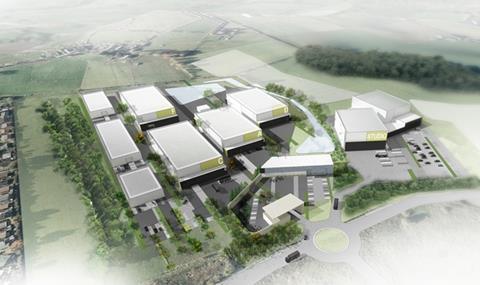 Known as Project Pentland, the proposed development of the 86 acre site includes two 15,000 sq ft studios, two 20,000 sq ft stages and two stages of 30,000 sq ft.
The planning application has been submitted by PSL Land (PSLL), a company that was set up to deliver the "future-proofed" TV and film studio production complex at Straiton, four miles outside of Edinburgh. Midlothian Council now has until mid-way through August to consider the application.
A spokeswoman for PSLL said they want the privately-financed facility to be ready for business by the first quarter of 2017.
Also included in the plans are an external 45,000 sq ft water-stage, two back lots of almost 30 acres, 55,000 sq ft of workshop space and a 50,000 sq ft reception building for use by production companies along with a data centre and satellite up-link facilities.
If the plans are greenlit, a film academy with a 28,000 sq ft teaching pavilion and 33,000 sq ft of student residence, a 23,000 sq ft visitor attraction and a 180-bed hotel will also be built.
PSLL is now in discussions with potential commercial partners and investors while tenants of the film academy and hotel could also provide an element of funding.
PSLL development director Jim O'Donnell said: "We look forward to creating a world-class facility to complement Scotland's existing studio spaces and stunning locations.
"Situated on the outskirts of one of Europe's greatest cities, the proposed studio will place broadcast, indigenous and international film production needs at the forefront, whilst retaining the character and integrity of the local area and its natural beauty."
The creation of a film studio was identified as a key priority in Creative Scotland's Film Strategy 2014-17, and there have been several attempts in recent years to build a large studio complex in Scotland.
In March last year, a feasibility report commissioned by Scottish Enterprise identified a "clear and present opportunity" for a film and TV studio facility in Scotland and highlighted the potential to build a £15m facility at Pacific Quay.
Proposals have also included the redevelopment of industrial buildings adjacent to the Film City Glasgow building and the construction of two 20,000 sq ft studios on land between Film City and the BBC's site at Pacific Quay.
However, according to reports in The Herald, the plans for a central Glasgow facility have been snubbed. Instead, a site some 15 miles north east of Glasgow in Cumbernauld where Starz drama Outlander is shot could be the location of a Scottish Enterprise-backed facility.