UPDATE: Move comes after Wanda reconsidered $1bn offer to buy Golden Globes show producer.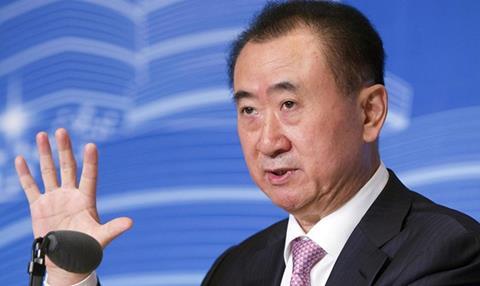 Eldridge Industries on Friday said it had terminated the proposed acquisition by Dalian Wanda Group of Dick Clark Productions and has filed suit for what is understood to be the $25m balance of a break-up fee.
The statement reads: "Eldridge Industries announced today that one of its affiliates has terminated its agreement to sell Dick Clark Productions to the Dalian Wanda Group. Wanda had agreed to acquire Dick Clark Productions in November 2016.

"Eldridge's affiliate terminated the agreement this week after Wanda failed to honor its contractual obligations. Eldridge's affiliate also has filed with the Delaware Chancery Court to compel release of the balance of escrowed funds to which it is contractually entitled given Wanda's failure to consummate the sale."
The move comes after Dalian Wanda withdrew from the deal. Screen understands the Chinese company's billionaire owner Wang Jianlin reconsidered the price tag, particularly as his company had come under scrutiny in the marketplace when The Great Wall flopped.
Sources said Eldgidge's lawsuit is a request to the court to compel Wanda to release $25m of a $50m deposit it put into an escrow account last November that amounted to a potential break-up fee.
Wanda released $25m to Eldridge in January to extend the acquisition closing date and Eldridge is seeking the balance.
MARCH 9 REPORT: Screen understands Dalian Wanda's proposed $1bn swoop on the Golden Globes producer has been called off because billionaire Wang Jianlin has deemed the asking price to be too high.
The deal between Dalian Wanda and Dick Clark Productions, news of which first emerged last September, had been expected to close last month despite delays in January.
While a report on Thursday cited a desire by Chinese authorities to restrict capital from leaving the country, sources have told Screen that Dalian Wanda chief Wang and his cohorts – already under scrutiny from the marketplace following the financial loss incurred on The Great Wall – finally baulked at the price tag.
The parties entered exclusive negotiations last September following a year of dialogue as Wanda sought to enter the US unscripted and live event sector.
Dick Clark Productions produces the Golden Globes show and the American Music Awards, among others.
The company is owned by Eldridge Industries and representatives had not replied to requests for a comment at time of writing. Variety first reported the story.
Dalian Wanda famously snapped up AMC Entertainment and Legendary Entertainment and reportedly has a huge war chest set aside for further entertainment targets.
Meanwhile The Hollywood Reporter claims that Paramount Pictures has not received initial payments pursuant to its $1bn slate financing pact with Shanghai Film Group and Huahua Media.
That report cited not only the Chinese restrictions on capital but a concern on the part of Shanghai Film Group and Huahua Media over the leadership uncertainty at the studio. Paramount had not returned calls at time of writing.