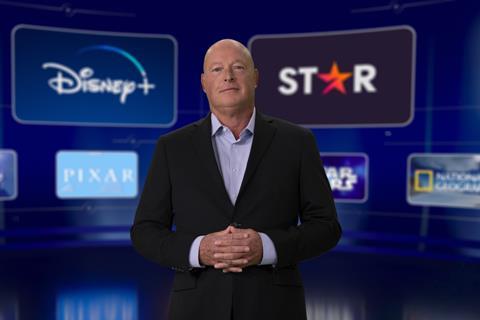 Disney CEO Bob Chapek told an investor conference on Tuesday (September 21) that talent deals were going through a "reset" as he avoided mention of the ongoing legal dispute with Scarlett Johansson.
Speaking at Goldman Sachs Communacopia Conference, where he also said Disney+ will launch in South Korea and Taiwan on November 12 and in Hong Kong on November 16, Chapek referred to the challenge of reconciling talent deals hatched several years ago with a distribution landscape disrupted by the pandemic.
According to reports the studio head, who noted that talent was the prize asset, said "we're sort of putting a square peg in a round hole right now where we've got a deal conceived under a certain set of conditions, that actually results in a movie that is being released in a completely different set of conditions".
Going forward, Chapek added, deals would be constructed with the dynamic distribution landscape in mind as the studio tried to do right by talent.
Johansson is suing Disney for interfering with her contract with Marvel Studios for the release of Black Widow and wants compensation for lost potential theatrical ticket sales on top of her $20m fee. The A-lister argued in a legal filing that when she struck the deal her understanding was the tentpole would get an exclusive theatrical release, however Disney launched the film in July simultaneously in cinemas and on Disney+ Premier Access. Disney responded and the issue became a public spat. Observers believe the matter will eventually settle out of court.
Disney has struck sequel deals with Cruella star Emma Stone and Jungle Cruise co-stars Dwayne Johnson and Emily Blunt after both films opened this summer day-and-date in cinemas and on the platform.
In other comments Chapek said Disney+ subscriber growth was non-linear, adding that he expected the level of paid global members in the fourth quarter to increase in the order of low millions even though the service was on track to meet long-term projections.
Chapek also declared November 12 Disney+ Day, a consumer event that marks the second anniversary of the platform's launch in the US and will become an annual showcase of new titles, news, and teasers of upcoming titles.
Shang-Chi And The Legend Of The Ten Rings and Jungle Cruise will both debut on the platform on November 12, when programming will include: specials celebrating the Marvel Cinematic Universe with a look towards the future and the origins of Lucasfilm's Boba Fett; animated short Ciao Alberto, an offshoot of Pixar's Luca; original movie Home Sweet Home Alone; and new series Olaf Presents featuring the character from the Frozen franchise and Dopestick starring Michael Keaton, which will be released in international markets as part of Star content.