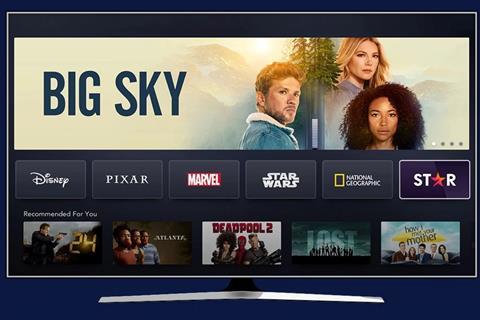 Disney+ will be an "exclusive streaming home" for the studio's popular content in the coming months, according to top European executives speaking at the press rollout of the new Star hub.
"The approach we're taking is very similar to the one we took when we programmed the Disney+ launch last year," said Luke Bradley Jones, senior vice president, direct to consumer and general manager, Disney+ EMEA.
"The mix of shows varies across the European markets depending on what rights deals we have in place as we launch, but the intent is that Disney+ becomes an exclusive streaming home for all of these shows over time."
Bradley Jones cited Kiefer Sutherland-led series 24 as a current exclusive example, which will be joined by shows including Prison Break and Desperate Housewives later this year.
In the UK, Desperate Housewives is currently available as part of an Amazon Prime subscription, while Prison Break is on Netflix.
Disney+ will also become the exclusive site for previous seasons of shows including Grey's Anatomy and The Simpsons even as new seasons are screened through broadcast partners, such as Sky in the UK.
Jan Koeppen, president, The Walt Disney Company, EMEA, outlined the positioning of adult-focused hub Star, which will be accessible on the main Disney+ page from Tuesday, February 23.
"Adult subscribers said, 'We'd love to have even more choice' for what they call 'me time'," said Koeppen. "The time when the kids have gone to bed, when they wanted to watch a very specific movie – that is where Star comes in."
Star will act as the home for adult-focused productions from Disney content arms include TV divisions ABC Signature, FX Productions and 20th Television, and the film divisions it acquired in its takeover of 20th Century Fox, now known as 20th Century Studios and Searchlight Pictures.
The Star platform will host four new original shows upon launching, including Big Sky, a crime thriller developed by Big Little Lies creator David E. Kelley and starring Ryan Phillippe; and Love, Victor, a gay teen drama from the writers of 2018 feature Love, Simon, set in the same world as the film.
Future projects include Only Murders In The Building, a comedy series starring Steve Martin, Martin Short and Selena Gomez; and FX spy thriller The Old Man starring Jeff Bridges.
Star will initially host 75 TV series and 300 films.
Koeppen also confirmed that current Disney+ subscribers will get the Star content at the £5.99-a-month price they are paying now for the next six months. From February 23 the cost of Disney+ will rise to £7.99 a month, with a yearly subscription available for £79.90.
Production plans
Following the launch of 10 European originals yesterday from countries including France, Germany and Italy, the Disney execs remained tight-lipped on UK projects. "There are a number of projects on the cusp of announcement across drama, comedy and scripted – watch this space," said Liam Keelan, VP of original productions in Europe.
Keelan confirmed the streamer's ambition to have 50 European original titles on the service by 2024.
"The production community has really embraced what we're trying to do with this service," he added. "It's really important for us to have shows that stand up against a line-up of brilliant shows that we've already got coming down the pipeline – shows that feel a bit different and will have real impact in the market."