The Walt Disney Company has confirmed that it is to acquire 21st Century Fox's entertainment assets in a $52.4bn mega-deal which is a game-changer for the entertainment industry.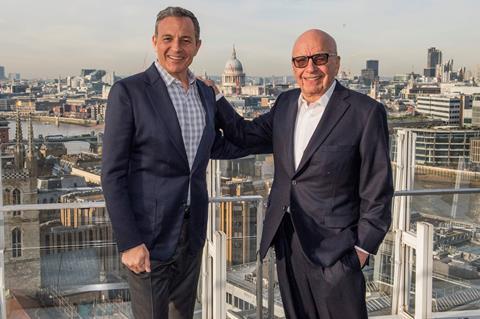 The acquisition includes Fox's film and television studios, cable entertainment networks and international TV businesses, and properties such as X-Men, Avatar and The Simpsons.
The $52.4bn amount will be comprised of stock. Shareholders of 21st Century Fox will receive 0.2745 Disney shares for each Fox share they hold, subject to adjustment.
Disney will also assume approximately $13.7bn of net debt of 21st Century Fox.
Prior to the acquisition, Fox will separate the Fox Broadcasting network and stations, Fox News Channel, Fox Business Network, FS1, FS2 and Big Ten Network into a newly listed company that will be spun off to its shareholders.
The deal includes the addition of Sky, which reaches 23 million households in the UK, Ireland, Germany, Austria and Italy. It also includes a controlling stake in Hulu.
Disney and Fox also said that they anticipate the latter will now seek to complete its planned acquisition of the 61% of Sky it doesn't already own.
"21st Century Fox remains fully committed to completing the current Sky offer and anticipates that, subject to the necessary regulatory consents, the transaction will close by June 30, 2018.
"Assuming 21st Century Fox completes its acquisition of Sky prior to closing of the transaction, The Walt Disney Company would assume full ownership of Sky, including the assumption of its outstanding debt, upon closing."
"The acquisition of this stellar collection of businesses from 21st Century Fox reflects the increasing consumer demand for a rich diversity of entertainment experiences that are more compelling, accessible and convenient than ever before," said Disney chairman and chief executive officer Bob Iger.
In another significant developmnent, Iger has agreed to continue in his role at Disney through to the end of 2021.
"We're honored and grateful that Rupert Murdoch has entrusted us with the future of businesses he spent a lifetime building, and we're excited about this extraordinary opportunity to significantly increase our portfolio of well-loved franchises and branded content to greatly enhance our growing direct-to-consumer offerings. The deal will also substantially expand our international reach, allowing us to offer world-class storytelling and innovative distribution platforms to more consumers in key markets around the world," he added.