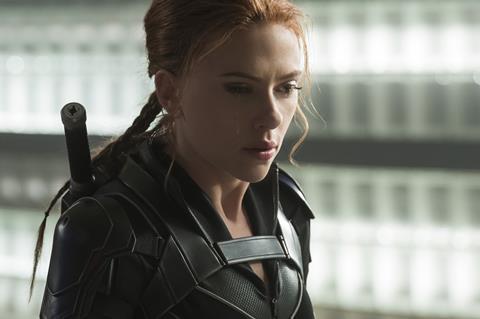 Three months after preparing to go to war, Disney and Scarlett Johansson have ended their legal battle over the hybrid release of Black Widow and settled the matter out of court in a development that will embolden stars and their agents in future deal-making.
"I am happy to have resolved our differences with Disney," said Johansson in a statement issued on Thursday afternoon (September 30). "I'm incredibly proud of the work we've done together over the years and have greatly enjoyed my creative relationship with the team. I look forward to continuing our collaboration in years to come."
Disney Studios Content chairman Alan Bergman said, "I'm very pleased that we have been able to come to a mutual agreement with Scarlett Johansson regarding Black Widow. We appreciate her contributions to the Marvel Cinematic Universe and look forward to working together on a number of upcoming projects, including Disney's Tower Of Terror."
No financial terms were disclosed, however according to one trade report Johansson could now be looking at a staggered payday in excess of $40m. While that includes her role as executive producer and is less than the $50m she was asking for it nonetheless sends a signal to studios, their corporate parents and streaming platforms that more household-name talent could be prepared to dig in over compensation disputes.
The statements are in stark contrast to the parties' stances in late July after Johansson sued the studio for lost potential box office earnings after it released the Marvel Studios tentpole on July 9 simultaneously in cinemas and on Disney+ Premier Access – as it had done with Cruella and Raya And The Last Dragon due to the pandemic.
When the A lister asserted in her filing that her understanding was there would be an exclusive theatrical release (which would inevitably mean higher box office, triggering lucrative participation payments when certain milestones were reached) Disney issued a public statement some hours later noting her $20m fee and remarked on what it called the star's "callous disregard" for the effects of the pandemic. That prompted Johansson's agent, CAA co-head Bryan Lourd, to publicly defend her honour.
Insiders had not expected the case to go to trial. Disney CEO Bob Chapek had previously spoken of the need to remain flexible over distribution during Covid. However Hollywood's ears pricked up earlier in September when he commented at a media conference that the studio wanted to do right by its talent. By that point Disney had already struck a deal with Emma Stone for a sequel to Cruella.
Several days ago the first public hearing on the Black Widow case was pushed back to March 2022. According to one trade report Disney's lawyers were pushing for private arbitration and would have been under instruction to avoid a public hearing when confidential contractual details and accounting minutiae could be laid bare.
Thursday's announcement continues a big week for CAA. Lourd set tongues wagging with his impassioned defence of Johansson and earlier this week announced with his co-heads that the agency was acquiring ICM Partners. They repeatedly stressed the importance of representation and would have left clients in no doubt that the agency would back them to the hilt.
Observers note that Disney's case was on shaky ground after it released Shang-Chi And The Legend Of The Ten Rings exclusively in cinemas at the start of September. That film is crossing $200m in North America and has overtaken Black Widow's $183.6m to become the highest release of the pandemic so far. Globally Shang-Chi and Black Widow stand at $366m and $379, respectively. Disney, the argument goes, intended to push Black Widow, a spin-off from the proven Avengers franchise, on to Disney+ to grow subscribers.
Chapek will also have been concerned about keeping Kevin Feige happy. The Marvel Studios head prefers exclusive theatrical runs for his films and has brought Disney billions of dollars at the global box office. It has been reported on multiple occasions that Chapek's predecessor Bob Iger would never have let a dispute like this spill into the public domain. The whole debacle has not been a good look for Disney in Hollywood's eyes, even if shareholders are revelling in the trajectory of Disney+.
Johansson has said before she does not intend to return to the role of Natasha Romanoff in Black Widow. Now she and Disney can look forward to making Tower Of Terror based on the Disney Parks attraction.