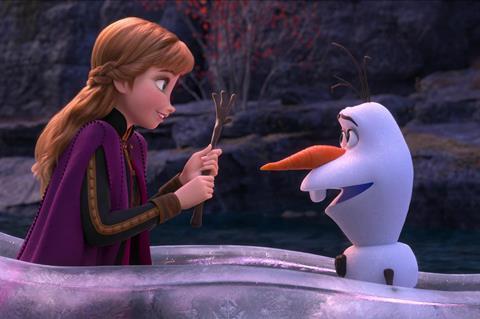 Disney said on Friday (13) it will put Frozen 2 on its Disney+ platform three months ahead of schedule "during this challenging period".
The animated smash, which grossed $1.4bn in theatres worldwide after launching last November, will debut on March 15 in the US, and in Canada, the Netherlands, Australia and New Zealand on March 17.
The news comes after a tough week for Disney and film and TV companies around the world as the novel coronavirus spreads around the globe.
On Friday Disney said it was putting a temporary halt on pre-production and physical production of select live-action features including The Little Mermaid, which was due to commence shooting in London next week.
Meanwhile Disney Television Studios has postponed production on virtually its entire broadcast pilot pipeline for at least three weeks.
"Frozen 2 has captivated audiences around the world through its powerful themes of perseverance and the importance of family, messages that are incredibly relevant during this time, and we are pleased to be able to share this heartwarming story early with our Disney+ subscribers to enjoy at home on any device," said Bob Chapek, Disney's new CEO.