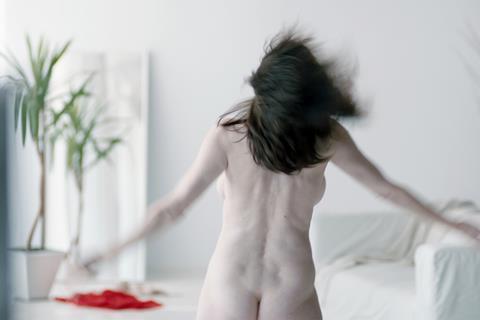 Paris-based Doc & Film International has boarded world sales on Romanian director Adina Pintilie's hybrid study of intimacy Touch Me Not ahead of its world premiere in competition at the Berlin Film Festival.
"This debut feature has completely overwhelmed us," commented Doc & Film CEO Daniela Elstner.
"On the fluid border between reality and fiction, Touch Me Not is a film about how human beings can find intimacy in the most unexpected ways, about how to love another without losing ourselves."
The film is a co-production between Bucharest-based Manekino Film, German film company Rohfilm Productions, Czech Republic company Pink, Bulgaria's Agitprop and French production company Les Films de L'Etranger.
It features an equally cosmopolitan, ensemble cast - mixing actors and non-professionals - including Paris-based British actress Laura Benson, Icelandic actor and shamanic healer Tomas Lemarquis, Bulgaria's Irmena Chichikova, sex workers and activists Hanna Hofmann (Germany) and Seani Love (Australia), outspoken German activist couple Christian Bayerlein and Grit Uhleman.
"If art is a reflection of our present time, then we have here an outstanding example of it," added Elstner.
Other projects
It is among a trio of Berlinale titles on Doc & Film's slate including Alina Skrzeszewska's feature documentary Game Girls which will screen in the Panorama section.
The film follows a deeply in-love homeless, female couple as they struggle to survive and maintain their relationship on the streets of Los Angeles.
"The director tells their story with stirring intimacy, while portraying truthfully a part of LA also known as the US capital of homelessness," comments Elstner.
It is a co-production between Marseilles-based documentary specialist Films de Force Majeure and Germany's Blinker Filmproduktion.
Doc & Film is also selling Stephen Nomura Schible's live performance film Ryuichi Sakamoto: async At The Park Avenue Armory, which will premiere as a Berlinale Special.
It was shot during the making of Schible's recent documentary Ryuichi Sakamoto: Coda, capturing the life and work of the renowned Japanese composer, which Doc & Film also handled internationally. It is produced by US companies Cineric Inc and Borderland Media.
"We're pleased to continue working with Stephen," said Elstner.
Outside of the festival selection, the company will also bring US photographer and filmmaker RaMell Ross's documentary Hale County This Morning, This Evening to the EFM.
It arrives fresh from its award-winning premiere at Sundance where it won the Special Jury Award for Creative Vision.
The film follows the progress of two young men growing up and going about their lives in the deep south US state of Alabama.
"Ross portrays the Alabama Black Belt with a deep and provocative sense of beauty, making us a discover a new empowering face of the Black American Experience," says Elstner.
The work is produced by Idiom Film and Louverture Films.