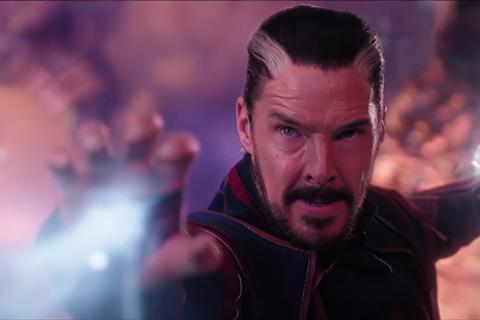 | Rank | Film (distributor) | Three-day gross (May 6-May 8) | Total gross to date | Week |
| --- | --- | --- | --- | --- |
| 1. | Doctor Strange In The Multiverse Of Madness (Disney) | £14.9m | £19.8m | 1 |
| 2. | Downton Abbey: A New Era (Universal) | £1.6m | £7.7m | 2 |
| 3. | Sonic The Hedgehog 2 (Paramount) | £630,000 | £23.5m | 6 |
| 4. | The Lost City (Paramount) | £468,000 | £8.7m | 4 |
| 5. | Fantastic Beasts: The Secrets Of Dumbledore (Warner Bros) | £401,675 | £19.6m | 5 |
GBP to USD conversion rate: 1.23
Disney blockbuster Doctor Strange In The Multiverse Of Madness has topped the UK-Ireland box office with a £14.9m three-day opening weekend – the highest in the territory since Spider-Man: No Way Home in December 2021.
Multiverse recorded the fourth-highest opening weekend ever for a Marvel film, behind only No Way Home, Avengers Infinity War and Avengers: Endgame.
It also took a huge £4.8m on its Thursday release day – just behind the £4.89m Thursday of No Time To Die from September 2021.
That gives Multiverse a total of £19.8m, meaning it has grossed over 85% of the total of the first Doctor Strange film in just four days. It has already surpassed the total gross of nine of the 27 previous Marvel Cinematic Universe films.
Based on previous MCU trajectories, Disney will look to push the film towards the £50m mark. 2015's Avengers: Age Of Ultron started with £14.4m three-day and £18.3m four-day opening, and ended on £48.3m.
As well as topping the £13.5m three-day opening of The Batman from March, Multiverse has also comfortably topped the full opening figures for post-pandemic releases Tenet (£5.3m), Shang-Chi And The Legend Of The Ten Rings (£5.8m) and Fast & Furious 9 (£6m) – the latest sign that cinemas are returning to pre-pandemic levels.
Best of the rest
A combination of Multiverse's screen dominance and warm weather across much of the UK saw several holdovers take substantial hits.
Last week's number one Downton Abbey: A New Era moved to second place for Universal, falling 49.5% on its opening session with £1.6m bringing it to £7.7m total. It is already lagging behind the first film, which had grossed £13.2m after two weekends.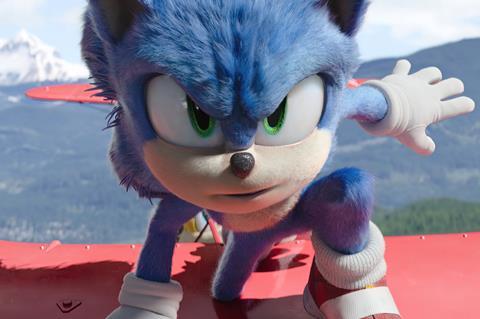 Paramount's former number one Sonic The Hedgehog 2 brought in £630,000 – a 53.3% drop – and has £23.5m from six weekends. It topped the £19.3m of the first film several weeks ago, representing a strong result for the sequel.
Also for Paramount, The Lost City dropped 61% with £468,000 taking it to £8.7m from four weekends.
Warner Bros' Fantastic Beasts: The Secrets of Dumbledore took a 66.5% hit on its fifth weekend, with £401,675 bringing it to £19.6m. It will finish down on the £54.7m and £34m totals of the first two films in the series.
Takings for the top five shot up 140% to £18m for the biggest weekend since December, with 83% of this amount coming from Multiverse.
Universal animation The Bad Guys fell 57% on its sixth weekend, with £311,418 taking it to a respectable £11m cume.
The Northman added £209,504 – a 64.5% drop – for Universal on its fourth weekend, and is just shy of £4.1m.
War drama Operation Mincemeat added £176,704 for Warner Bros – a 67.1% drop – with £176,704 bringing it to £4.5m from four sessions.
Trafalgar Releasing's Met Opera event cinema title Turandot brought in £102,818 from 132 locations from Saturday, with several locations still to report.
Lionsgate's Nicolas Cage title The Unbearable Weight Of Massive Talent added £61,538 – a 79.5% drop – and is at £1.4m from three weekends.
Mubi's The Worst Person In The World is closing in on the £1m barrier, adding £18,022 - a 33.8% drop that marks a good result this weekend - to reach £993,011. Depending on its number of midweek locations, it should hit the £1m mark in the next week.
As one comic book adaptation lands in cinemas, another two are sliding out. The Batman added £14,272 (an 86.4% drop) on its tenth session for Warner Bros; its £40.7m total secures a spot in the top 100 highest-grossing films of all-time in the UK and Ireland.
Sony's Morbius put on £7,000 and is up to £6.4m from six weekends.
Blue Finch Films' comedy Wild Men has a £12,258 total on opening from 30 locations.
Republic Film Distribution's documentary Wake Up Punk took £1,369 from a limited number of screenings in nine locations over the weekend, and has £4,769 including previews. The film is available on digital from today.
Park Circus opened the 50th anniversary re-release of Cabaret to £18,560 including previews.
Dreamz Entertainment's Acharya is closing out with a £96,086 cume.