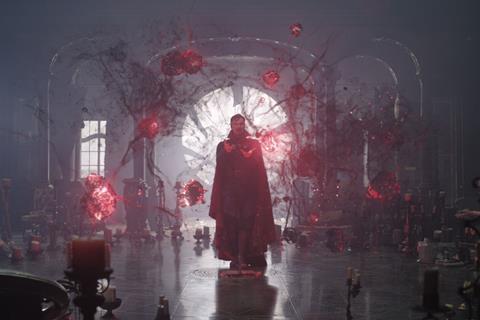 | Rank | Film (distributor) | Three-day gross (May 20-May 22) | Total gross to date | Week |
| --- | --- | --- | --- | --- |
| 1. | Doctor Strange In The Multiverse Of Madness (Disney) | £3m | £35.3m | 3 |
| 2. | Everything Everywhere All At Once (A24) | £839,974 | £1.9m | 2 |
| 3. | Downton Abbey: A New Era (Universal) | £755,979 | £12.3m | 4 |
| 4. | Sonic The Hedgehog 2 (Paramount) | £424,000 | £24.7m | 8 |
| 5. | The Lost City (Paramount) | £357,000 | £9.8m | 6 |
Disney's Doctor Strange In The Multiverse Of Madness dominated again at the UK-Ireland box office, grossing £3m in its third weekend.
Ticket sales for Multiverse dropped 48%, while its box office total now stands at £35.3m.
The sequel has quickly overtaken the £23.2m that the first Doctor Strange took in 2016, and is ahead of fellow Marvel titles such as Thor Ragnarok (£31.1m), Spider-Man: Homecoming (£30.7m) and Guardians of the Galaxy (£28.6m).
Holdovers led the box office for the second weekend in a row, accounting for the top eight places in the charts. New independent films, meanwhile, struggled to make significant headway.
A24's Everything Everywhere All At Once built up momentum over its second weekend, climbing up to second place. The adventure comedy generated £839,974 – an impressive 23.3% increase compared to its launch weekend - for a £1.9m total so far.
Universal's Downton Abbey slipped one place. In an encouraging sign that older audiences are returning to the cinemas post-pandemic, the sequel dropped just 22% on its fourth weekend to add another £755,979 and bring its total to £12.3m.
Paramount's Sonic The Hedgehog 2 continued to perform in its eighth weekend, bringing in £424,000 – an 18% drop – for a £24.7m cume.
More holdovers followed: Paramount's The Lost City saw its takings rise 2.6% in its sixth weekend, earning £357,000 and bringing it to £9.8m.
Universal animation The Bad Guys also saw its box office increase – by 4.6% to £318,723 on its eighth weekend for a £11.7m total so far.
Warner Bros' Fantastic Beasts: The Secrets of Dumbledore dipped 11.6% to £237,161 in its seventh weekend for a £20.4m cume.
Universal's Blumhouse horror Firestarter fell 53% in its second weekend, taking £117,536 to lift its total to £530,497.
The biggest new release to debut was a live event. Trafalgar's release of Twenty One Pilots Cinema Experience concert played at 188 venues on Thursday (19 May), with an encore at 35 venues on Saturday. It brought in £102,882 on Thursday, for a total of £114,873 including the weekend encores.
Then came more holdovers. The Northman added £95,939 for Universal on its sixth weekend, bringing its cume to £4.5m
War drama Operation Mincemeat added £91,973 for Warner Bros, lifting its total to £5m after six sessions.
Vertigo Releasing's launch of Terence Davies' Benediction, which explores the turbulent life of First World War poet Siegfried Sassoon, took £80,702 at the weekend from 238 cinemas in the UK and Ireland. Including previews, its total for the week was £100,635.
Irish filmmaker Colm Bairéad's debut feature The Quiet Girl performed well its second weekend through Curzon and Break Out Pictures, grossing £75,985 – a 3% increase. Its total so far stands at £262,935.
Trafalgar oversaw another live event at the weekend: The Met Opera Live: Lucia Di Lammermoor, which screened at 148 venues on Saturday, with a few locations playing the opera off-date. Excluding Ireland, the live broadcast took £70,362.
Documentary a-ha: The Movie debuted with £40,907 for an event-led release focussing on Friday (20 May) night screenings.
The launch of Scottish period drama The Road Dance, released through Parkland Pictures, grossed £31,542 over the weekend, taking a total of £38,107 including previews.
Sony's religious drama Father Stu, starring Mark Wahlberg, grossed £28,000 – a 42% drop - in its second weekend, with its cume now standing at £139,000.
The director's cut of Paul Verhoeven's classic RoboCop, released through Park Circus, took £16,585 in its first weekend.
Signature Entertainment launched Eskil Vogt's The Innocents at 29 sites where it grossed £8,818 over the weekend.
Eureka Entertainment's 90th anniversary re-release of Carl Th. Dreyer's classic horror Vampyr took £5,843 at the weekend plus £335 in previews.