Warner Bros' The Accountant is the week's highest new entry with $2m (£1.61m) debut from 497 sites.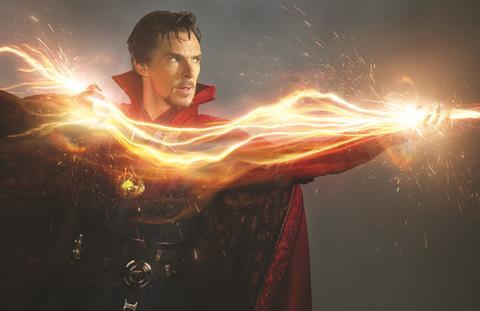 UK TOP FIVE
| Ranking | Film/Distributor | Weekend gross | Running total |
| --- | --- | --- | --- |
| 1 | Doctor Strange (Disney) | $4.24m (£3.42m) | $19.5m (£15.7m) |
| 2 | Trolls (Fox) | $2.46m (£1.98m) | $21.3m (£17.19m) |
| 3 | The Accountant (WB) | $2m (£1.61m) | $2m (£1.61m) |
| 4 | A Street Cat Named Bob (Sony) | $1.22m (£985,000) | $1.22m (£985,000) |
| 5 | Nocturnal Animals (Universal) | $937,000 (£755,427) | $937,000 (£755,427) |
(Note - Dollar conversions are based on today's rates)
DISNEY
Doctor Strange comfortably saw off all newcomers to retain the lead at the UK box office for the second straight week.
Disney's latest Marvel offering fell 38% (excluding previews) with a $4.24m (£3.42m) second weekend for $19.5m (£15.7m) after 13 days in play. It has now surpassed Thor's $17.4m (£14.04m) result in the UK.
Next in its sights is Iron Man's $21.6m (£17.42m) haul which would make it the second-biggest Marvel original offering (not a sequel). Guardians Of The Galaxy's $35.3m (£28.5m) is likely a target too far though.
Also for Disney, family titles Pete's Dragon and Finding Dory have amassed $6.33m (£5.11m) and $52.9m (£42.68m), respectively, while Queen Of Katwe has grossed $302,000 (£243,575) after three weeks in play.
FOX
Trolls remained in second as it fell almost 40% with a non-final $2.46m (£1.98m) third weekend.
Fox's animation is now up to a strong $21.3m (£17.19m) in the UK, and the drop was to be expected as last Friday (October 28), children were still on school holidays. It will remain the leading family choice in the coming weeks.
In terms of DreamWorks Animation's original outings in the UK, Trolls will soon overtake How To Train Your Dragon's $21.6m (£17.37m), with Kung Fu Panda's $25.2m (£20.29m) the next target.
Also for Fox, Ae Dil Hai Mushkil posted a $307,000 (£247,480) second weekend for $1.43m (£1.15m) to date, while Miss Peregrine's Home For Peculiar Children added $285,000 (£229,166) for $14.8m (£11.95m).
Keeping Up With The Joneses has grossed $812,000 (£654,016) after three weeks in play.
WARNER BROS
The Accountant achieved director Gavin O'Connor's best-ever opening in the UK as it charted third.
Warner Bros' action thriller accumulated $2m (£1.61m) from its 497 sites, marking a decent site average of $4,022 (£3,247) and surpassing Warrior's $1m (£808,410) bow from 383 sites.
Also for Warner Bros, Storks fell around 40% with a $453,000 (£366,000) fourth weekend for $7.16m (£5.78m) to date.
SONY
A Street Cat Named Bob arrived in fourth as the week's second highest new entry.
Sony's adaptation of the heartwarming true story recorded a $1.22m (£985,000) UK bow from its 440 sites, marking a site average of $2,780 (£2,239), a decent result for a film without a huge lead star in a crowded market.
Also for Sony, Inferno uncovered a further $268,000 (£216,000) for $9.81m (£7.9m) to date.
UNIVERSAL
Nocturnal Animals rounded off this week's top five with a promising start.
Universal's dark thriller posted a $937,000 (£755,427) UK debut from its 242 sites, including previews, achieving a healthy $3,872 (£3,142) site average and topping the opening of director Tom Ford's first feature, A Single Man, which grossed $623,000 (£502,009) from its 79 sites.
A Single Man went on to take $3.97m (£3.2m) in the UK, an achievable target for Nocturnal Animals to aim for.
Also for Universal, Bridget Jones's Baby delivered a $401,000 (£323,249) eighth weekend for a staggering $58.4m (£47.07m) to date, and should soon crack the all-time top 30 highest-grossing movies of all time.
Ouija: Origin Of Evil scared up a $252,000 (£202,746) third weekend for $3.13m (£2.52m) to date.
EONE
Having opened on Tuesday (November 1), The Light Between Oceans recorded director Derek Cianfrance's best-ever UK debut.
eOne's adaptation swept up a non-final $907,000 (£730,140) from its 438 sites, including $345,000 (£277,655) in previews. That's ahead of The Place Beyond The Pines' $790,000 (£665,935) bow, but that was achieved from much fewer sites (114).
It will hope to hold well midweek, but there is currently stiff competition for the older-skewing audience, including from stablemate I, Daniel Blake.
Also for eOne, The Girl On The Train journeyed to an extra $774,000 (£623,030) for an excellent $27.3m (£21.95m) after five weeks in play.
Expanding to 285 sites, I, Daniel Blake enjoyed a $401,000 (£323,259) third weekend as it crossed the £2m mark to stand at $2.57m (£2.07m). It's now Ken Loach's second-best UK result, ahead of The Angels' Share's $2.46m (£1.98m).
PARAMOUNT
Falling more than 50% in its third weekend, Paramount's Jack Reacher: Never Go Back shot to a non-final $707,000 (£571,000) for $8.61m (£6.95m) to date. It will likely fall short of the original's $11.7m (£9.45m) haul.
DOGWOOF
In its second weekend, Dogwoof's Lo And Behold: Reveries Of The Connected World added $6,600 (£5,325) from its 10 screens for $116,000 (£93,759) to date.
Also for Dogwoof, Richard Linklater: Dream Is Destiny posted a $4,600 (£3,718) UK debut from its four screens, including previews.
UPCOMING RELEASES
This week sees a saturation release for eOne's Arrival (opens November 10), while Entertainment's American Pastoral receives a wide release.
BFI Distribution's re-issue of Napoleon, Curzon Artificial Eye's Francofonia and Vertigo Releasing's 100 Streets are among the films receiving a limited release.