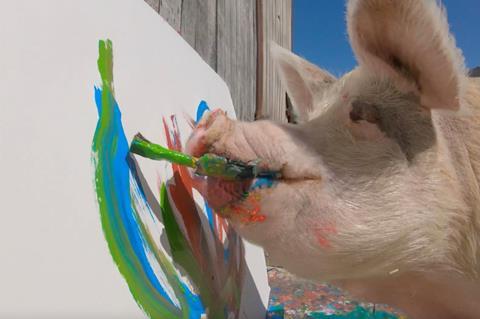 Documentary feature Intelligent Animals has been picked up for theatrical distribution in France and Germany.
Jupiter Films and Mindjazz Pictures have acquired the film for distribution in French and German-speaking territories respectively.
The film is produced and directed by Julia Dordel and Guido Tölke, whose credits include 2016 feature doc Intelligent Trees which had wide distribution in France through Jupiter Films.
Intelligent Animals highlights the cognitive abilities of non-human animals and scientific findings which show that they know friendship, have emotions, are much smarter than we give them credit for, and communicate sophisticatedly with each other and with us.
The film features author and scientist Thomas Bugnyar, author and horse-trainer Sharon Wilsie as well as the South African influencer and animal rights activist Joanne Lefson whose pig called Pigcasso can paint.
Intelligent Animals is currently filming and is produced by Germany's Dorcon Film and funded by nordmedia – Film und Mediengesellschaft Niedersachsen / Bremen mbH
Dorcon is also in post on female-led mystery thriller The Bitter Taste, which Italy's Minerva Pictures International is selling internationally.
The story is loosely based on the story of Hungarian countess Elisabeth Bathory who purportedly tortured and murdered hundreds of young women in the 16th and 17th centuries. Julia Dordel plays a former pentathlete who is caught in the clutches of an undead countess and her cursed fellowship. In order to survive a cannibalistic manhunt, she needs to fall back on her athletic skills and forge a reluctant alliance fisherman and a cop.
Produced in English, the film was shot in the North German province of Lower Saxony.