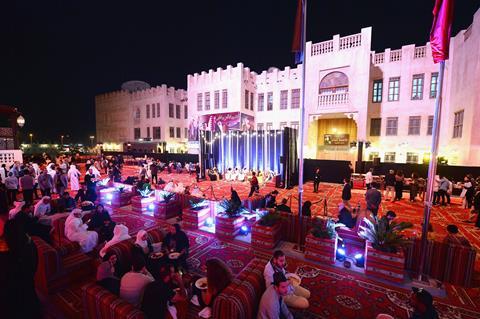 The Doha Film Institute wrapped a successful fifth edition of its respected Qumra industry event on Wednesday.
The five-day meeting, running March 15-20, followed its tried and tested formula of pitches, work in progress screenings, mentoring sessions and masterclasses around 36 projects backed by the DFI, in an informal, friendly atmosphere.
Industry professionals – spanning producers, directors, festival programmers and sales agents – heaped praise on the fifth edition as it came to an end with its traditional open-air party in the Qatari desert.
"To my knowledge, it's the only event like this that happens without a festival. Qumra is really something very unique. It is only professionals who are here," said Sarim Fassi-Fihri, director of the Moroccan Cinema Centre. "I am by very impressed by how things go here. It is very professional."
Rasha Salti, a commissioning editor at French-German broadcaster ARTE, specialising in experimental documentary, echoed Fassi-Fihri's remarks. She highlighted Qumra's "relaxed" schedule, "informality" and "conviviality" as well as the boldness of the programming.
Spotlighting the unconventional
"Qumra is open to artistic expression. Films that follow the classic TV format have more trouble finding a space at Qumra than the crazy films," Salti said. "There is an awareness among institutions like the DFI and regional funds that there is an explosion of creativity in the Arab world."
Salti also programmes for the Marrakech International Film Festival, which regularly screens titles backed by the DFI. Nadine Labaki's Capernaum and Saeed Al Batal and Ghiath Ayoub's Syrian war documentary Still Recording were among the recent DFI grantees screening at its rebooted 2018 edition last December.
In her ARTE role, Salti also recently boarded Syrian filmmaker Diana El Jeiroudi's autobiographical documentary The Republic of Silence, which is now in early post-production and was among the 36 projects presented at Qumra this year.
Lebanese producer Tania El Khoury praised Qumra for putting the spotlight on projects from the MENA region tackling subjects outside mainstream expectations.
"Europeans like to see in our region stories that they know, about war, about women being mistreated, about social issues. When you're telling stories that are different from the western view of the region, it's even tougher to finance," she said.
El Khoury is currently working on The River, the third part of Ghassan Salhab's trilogy which also includes The Mountain and The Valley,
Sold by Paris-based Les Films du Losange, it is in post-production but was not in the Qumra selection. Its director Salhab was instead at Qumra as a mentor, a role he has undertaken every year since the event's launch.
"The region is ever present on TV and in the media, especially in the news. I think there are more stories to tell than what we see," Paris-based producer and financier Backup Media's David Atlan-Jackson who was in attendance at Qumra for the first time.
"The people I met were very passionate and the stories were very personal. That's always very refreshing - to see people who are not jaded or cynical like you might find in France or Europe."
Festival Fare
This year's edition of Qumra reaffirmed the event's reputation as a being a good destination for festival programmers looking to get an overview of the top projects being readied across MENA.
The selection featured a number of films at the picture-lock stage with Cannes potential – either in Official Selection or one of the parallel sections - including Gitanjali Rao's Bombay Rose, Mounia Meddour's Papicha and Alaa Eddine Aljem's The Unknown Saint.
Festival programmers in Qatar saw 20 minutes of Rao's painstakingly crafted, hand-painted animated romance Bombay Rose, which has taken six years to make.
Producer Deborah Sathe at Cinestaan Film Company, which is both producing and selling Bombay Rose internationally, emphasised Qumra's strategic importance for the film.
"You can introduce them [festival programmers] to it without exhausting them about it," Sathe said. "It's a great way to throw a spotlight on to this film as it starts a journey that people will recognise throughout the year as a result of being here."
The DFI supported the development of Bombay Rose at an early stage but turned it down twice for Qumra when it was still in production.
"I was quite disappointed. But you can only come here once and it is better to come here at this stage," said Rao. "We are meeting all the people we want to meet in a nicely curated way and you're not meeting too many people not interested in your project."
French-Algerian producer Meddour said the invitation to Qumra was just one of the ways the DFI had helped her timely drama Papicha, revolving around a young woman who tries to rise above the violence of the Algerian Civil War in the 1990s.
"Doha was one of the first bodies to board the project with a development grant. It was not a huge amount of money but it gave me the encouragement I needed to keep on with the project and they have been with us all along the way with advice and feedback," she said.
Strong documentary selection
The selection also featured a strong crop of documentaries at all stages of development and production.
Moroccan director Mouhssine El Badaoui presented his debut feature documentary Femmetasia at the development stage.
In the vein of The Eagle Huntress, it follows a young Moroccan horsewoman who defies patriarchal norms to participate in a traditionally male-only horsemanship contest, called Fantasia.
"Qumra has been a very good event for me. This was my first time and I was really surprised and really happy," said El Badaoui.
Picture-locked documentaries in the selection included Syrian filmmaker Ferras Fayad's The Cave, the second film in his trilogy around the Syrian Civil War afterLast Men In Aleppo, and Russian Ilya Povolotskiy's Froth, capturing the lives of three idiosyncratic individuals living in a village on the Barents Sea.
Christoph Terhechte, the former Berlinale Forum chief who is now artistic director of the Marrakech International Film Festival, was enthusiastic about Froth.
"The filmmaker seems to be a huge talent and I can't wait to see the finished film," Terhechte said, after seeing a 20-minute excerpt. "I would be very surprised if this is not one of the best documentaries of the year."
Iranian documentary maker Hasan Noori's The Forbidden Strings – about a group of Afghan musicians returning home to perform – was another buzzy project in the work-in-progress section.
"We've had some interesting conversations on the creative side of the film and we showed it both to festivals and sales agents," said producer Afsaneh Salari, herself an award-winning documentary director and co-founder of the Docmaniacs Collective in Iran alongside Sepand Saedi and Hoda Siahtiri.
She and Noori had meetings with representatives from IDFA, Hot Docs, Venice, Berlin, Tribeca and Cannes and are hopeful of festival debut later this year.
"This is a reliable place where a lot of the programmers, festivals and people from the industry all over the world can come and discover the new talent and projects from the region," commented Doha Film Institute CEO Fatma Hassan Alremaihi.
She said the success of Qumra was evident in the high number of participating projects that have gone on to secure distribution and selection at major festivals.
"That, for us, is the success of Qumra and we know we are doing it right," she said.