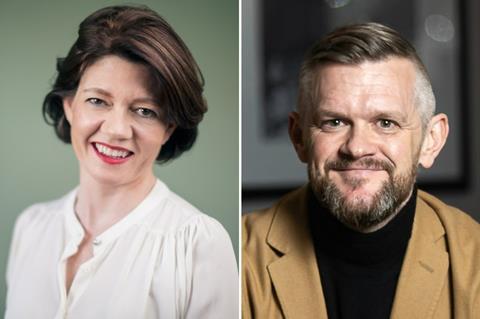 Senior executives from the UK screen sectors expressed mixed feelings about the TV, film and gaming industries' return to post-pandemic form at the British Screen Forum's 2022 conference in London.
One TV executive predicted a looming UK recession could have an even bigger impact on industry trends than Covid.
Andrew Zein, senior vice president creative, format development and sales at Warner Bros International TV Production, said: "I wouldn't underestimate recession and inflation as being defining factors for the next two or three years. What the TV industry needs is healthy, well-funded buyers willing to get into content, and I think, even more than [during] Covid, we're going to see that hit a wall in Q4 [2022 fourth quarter] and Q1 [first quarter] next year."
He noted long-running shows with two or three-year contracts are, for the first time ever, having to write inflation protection schemes into budgets.
The panel was chaired by Screen Scotland executive director Isabel Davis and titled 'Onwards and upwards? Post-pandemic recovery across the screen sectors'. Also on the panel were Kathryn Jacob, CEO of cinema advertising company Pearl & Dean, Simon Willgoss of documentary production specialists Nutopia and Colin Blackwood of video games publisher Electronic Arts.
Jacob spoke positively about the return to form for theatrical, pointing towards the success of No Time To Die, Spider-Man: No Way Home and Top Gun: Maverick. "Build it, and they will come," said Jacob. "There is an appetite for film."
But she acknowledged it can't just be the tent-pole releases that are keeping box office figures up. "That isn't sustainable – you need to attract everybody, not just one demographic.
"If you look ahead to 2023, there's far more diversity coming out of the slate," she added, "not just the big blockbusters and smaller films, but those mid-range films are coming out now and are going to play the role they played before. You're going to have a much more populated slate, rather than just the big bets because you know Tom Cruise is going to get people into cinemas, or Avengers."
Referring to last week's European cinema operator convention, CineEurope, Jacob said: "Every studio that stood up last week, from Disney to Universal, talked about how they were addressing specific audiences, and were not just about their safe bets."
Skills shortage
The skills shortage was another major theme explored during the conference. "This isn't a UK problem – there's a talent problem everywhere," said Davis.
In the wake of this week's publication of the BFI Skills Review, Ben Roberts, CEO of the British Film Institute (BFI), explored the skills shortage crisis in the independent film sector during his keynote speech. He hinted at the results of the economic review of UK independent film – commissioned by the BFI, produced by UK analyst Alma Economics and due to be released in mid-July – as being "not pretty".
"The practices of crew being nicked, or moving – obviously the workplace is free to move around and do what it wants – there's a market dynamic which is off," said Roberts. "The independent film sector, by and large, has less resources to compete with major production and is suffering as a result, and we can't let that stand – the independent sector is so vital."