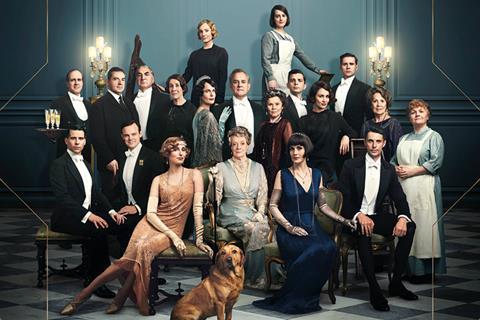 | Rank | Film (Distributor) | Three-day gross (Sept 27-29) | Total gross to date | Week |
| --- | --- | --- | --- | --- |
| 1 | Downton Abbey (Universal) | £2.7m | £19.4m | 3 |
| 2 | Ad Astra (20th Century Fox) | £1.3m | £4.5m | 2 |
| 3 | Hustlers (STX) | £1m | £5m | 3 |
| 4 | It: Chapter Two (Warner Bros) | £940,000 | £17.8m | 4 |
| 5 | Ready Or Not (20th Century Fox) | £697,488 | £947,018 | 1 |
Today's GBP to USD conversion rate: 1.23
Universal
Period drama Downton Abbey topped the UK box office for the third weekend, grossing £2.7m from Friday to Sunday to take it to £19.4m so far.
That result is an 18.5% drop on its previous session, roughly half of the first drop of 36% and suggests the film can break into the top 10 for 2019 by next week. (Once Upon A Time… In Hollywood currently holds 10th spot with £20.8m).
Another Universal title looking to hit that mark is Fast & Furious: Hobbs & Shaw, which added £77,452 for £20.4m after nine weeks on release. It should finish as the fourth highest-grossing title of the franchise in the UK, short of the £25.3m of 2013's Fast & Furious 6.
Horror title Don't Let Go starring David Oyelowo opened to a disappointing £59,399 from 120 locations, a £499 site average.
Good Boys put on £28,014 and is up to £3.2m.
20th Century Fox
Astronaut drama Ad Astra starring Brad Pitt grossed £1.3m on its second weekend, a reasonable 25% drop, which takes it to £4.5m overall. A strong tail would give it an outside chance of catching genre stablemate First Man, which hit £8m last year through Universal.
Fox opened Matt Bettinelli-Olpin and Tyler Gillett's comedy-horror Ready Or Not, which broke into the top five with a £697,488 opening three-day weekend and a gross of £947,018 including previews. A £1,641 site average represents a decent result for a genre piece without any big stars.
STX Entertainment
Lorene Scarfaria's Toronto 2019 title Hustlers starring Jennifer Lopez continued its impressive UK box office run, adding £1m to reach £5m after three weekends. The film fell just 4% on its previous weekend, the best weekend-on-weekend result in the top five and jumping above It: Chapter Two.
Warner Bros
It: Chapter Two added £940,000 to take it to £17.8m. It will end short of the first title's huge £32.3m.
Literary adaptation The Goldfinch performed poorly on opening, with £320,000 from 515 sites (a £601 average).
The Kitchen will be closing soon with £15,000 bringing it to £218,000.
National Theatre Live
The reruns of Screen Star of Tomorrow 2014 Phoebe Waller-Bridge's hit stage play Fleabag are proving enduringly popular, taking £583,718 on Friday to Sunday. This made it the sixth highest-grossing release of the weekend, and it is currently up to £2.9m.
An event release of Richard Bean's 2011 play One Man, Two Guvnors brought in £848,879 on September 26, with encore screenings taking it to £909,533.
Lionsgate
Rambo: Last Blood added £518,092 to reach £2.2m after two weeks on release. It will look to pass the £3.2m of 2008's Rambo by next weekend, although the £6.4m of Rambo: First Blood Part 2 from 1985 will likely be beyond it.
Angel Has Fallen added £119,060 for £7.3m after six weekends, while Jamie Bell drama Skin had a small release on nine screens, taking just £638.
Disney
The three Disney franchise titles all saw increases, deep into their respective runs in UK cinemas.
The Lion King held a top 10 spot after 11 weekends, increasing 22% with £460,000 taking it to £74.8m.
Toy Story 4 grossed £300,000, up 16% on last weekend taking it to £65.5m after 15 weeks on release.
Finally, Aladdin continues its magic carpet ride after 19 weeks, with an 89% uplift of £74,000 taking it to £37.1m.
Paramount
Dora And The Lost City Of Gold added £367,000 at the weekend - a 34% increase - and has £5.8m after seven weekends. Its hold was the best for a film in the top 10.
Sony
Quentin Tarantino's Once Upon A Time… In Hollywood dropped 22% on its seventh session, with £233,000 taking it to £20.8m. It needs another £2m to pass Fifty Shades Darker and become the UK's second-highest-grossing 18-rated title of all time.
In keeping with other family-friendly titles, The Angry Birds Movie 2 saw an uplift, increasing 37% with £147,000 taking it to £5.3m.
Just as Disney re-committed to its collaboration with Sony on the Spider-Man franchise, Spider-Man: Far From Home went up 22% with £52,000 bringing it to £37.2m.
Entertainment Film Distribution
Lulu Wang's Sundance 2019 title The Farewell fell a slim 9% on its second weekend, with £150,672 taking it to £489,871 overall.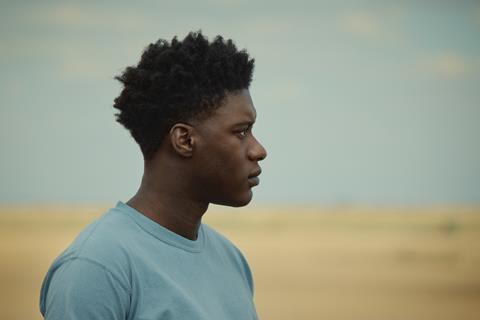 Picturehouse Entertainment
In a slow weekend for new openers, Shola Amoo's The Last Tree starring Screen Star of Tomorrow 2019 Sam Adewunmi performed better than most. It took £43,858 from 46 sites, with previews taking it to £59,471.
Its £953 location average falls just short of the magic £1,000 mark, but surpasses the averages of bigger-budget fellow openers The Goldfinch and Don't Let Go.
Stronghold
Martha Pinson's war veteran drama Tomorrow opened to £37,942 from 43 sites, with previews taking it to £90,776.
Studiocanal
A 70th-anniversary release of Carol Reed's classic noir The Third Man brought in £34,820 on September 29, with further screenings taking it to £41,809.