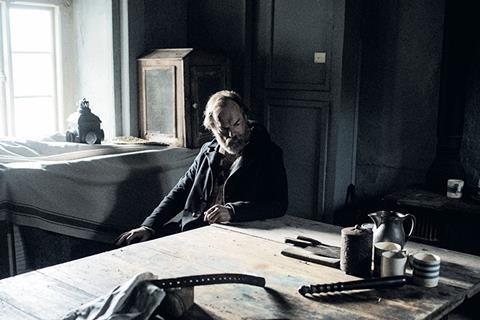 The Audi Dublin International Film Festival (Feb 21- Mar 4) has announced its 2018 line-up.
Opening the 16th iteration of the event is the Irish premiere of Black 47. Lance Daly's Great Famine-set thriller stars James Frecheville, Barry Keoghan, Moe Dunford, Hugo Weaving and Stephen Rea.
The closing night gala is C'est La Vie, from Olivier Nakache and Éric Toledano (The Intouchables).
Playwright and screenwriter Mark O'Rowe's directing debut The Delinquent Season is one of seven world premieres. The cast includes Cillian Murphy and Eva Birthistle, both of whom will attend.
Other world premieres include Stacy Cochran's Write When You Get Work and artist Alan Gilsenan's The Meeting.
Guests at the festival include Bill Pullman, presenting his new western The Ballad of Lefty Brown; Lynne Ramsay with a special presentation of You Were Never Really Here; Nora Twomey with Oscar-nominated animation The Breadwinner and Vanessa Redgrave for her refugee crisis doc Sea Sorrow.
Paddy Considine will also be in attendance with a screening of his second feature as director, Journeyman; and Paul Schrader presents his new film First Reformed. As this year's guest curator he will introduce three classic films that have inspired his work.
Schrader and Redgrave will also be presented with the festival's highest honour, the Volta Award.
Three-time Oscar-winning costume designer Sandy Powell will take part in a Q&A after Todd Hayne's Wonderstruck and also present John Cameron Mitchell's How To Talk To Girls At Parties.
Irish productions
Irish productions at the festival include Jaume Balagueró's Muse, Aoife McArdle's debut, Kissing Candice, Rebecca Daly's Good Favour, David Freyne's zombie film The Cured and the world premiere of Andrew Quirke's Damo & Ivor: The Movie.
New Irish documentaries showing at the festival include world premieres of Paul Duane's While You Live, Shine and this year's Arts Council Reel Art commissions, Rouzbeh Rashidi's Phantom Islands and Niall McCann's The Science of Ghosts; and Irish Premieres of Sinéad O'Shea's A Mother Brings Her Son To Be Shot; Donal Foreman's The Image You Missed; Feargal Ward's The Lonely Battle of Thomas Reid; Dónal O'Céilleachair's The Camino Voyage and the Dublin premiere of Pat Collins' Twilight.
For the first time this year, the festival will feature a two-day VR seminar titled Immersive Stories: Conference & Exhibition, which brings together experts in the field as well as new VR experiences. It is curated by Eoghan Cunneen, a senior software engineer at Lucasfilm.
The opening film of the Fantastic Flix programme for young people is Andrew Haigh's Lean On Pete starring Steve Buscemi, Chloë Sevigny and Charlie Plummer.
Gráinne Humphreys, festival director said "This year's Audi Dublin International Film Festival programme is a line-up of films that are rich, exciting and wonderful. They reflect the truly global culture of filmmaking as well as celebrating the strength and depth of Irish film talent. I'm particularly delighted to be welcoming our Volta Award recipients, Paul Schrader and Vanessa Redgrave to Dublin."
Click HERE for the full line-up of films and events.