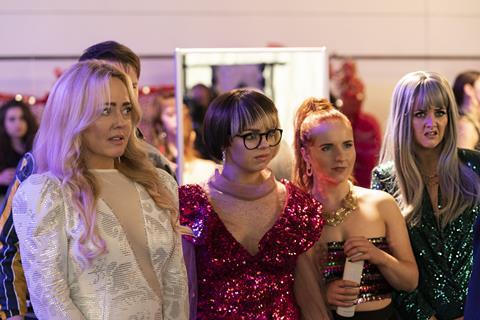 World premieres of Ivan Kavanagh's thriller Son and David Burke's The Father of the Cyborgs are among the new Irish titles that will screen at this year's Dublin International Film Festival (DIFF) (March 3-14).
The edition of DIFF, which recently announced it would take place online-only due to the ongoing pandemic, has selected acclaimed world cinema titles including Korean-American awards contender Minari, Ben Sharrock's UK comedy-drama Limbo, French feature Gagarine and Greek drama Apples.
Guests participating virtually will include Stanley Tucci and Colin Firth, whose film Supernova will be the opening-night gala; German actor Nina Hoss, whose feature My Little Sister will screen; US producer Dede Gardner; and Small Axe director Steve McQueen, who will be in conversation with Irish filmmaker Mark O'Halloran.
The festival has also selected several upcoming Irish features, including Kavanagh's Son, starring Emile Hirsch and Halloween's Andi Matichak. The character-driven horror centres on a mother, who escaped a cult as a child and goes on the run with her son when cult members track them down.
Burke's The Father of the Cyborgs tells the story of neurologist Phil Kennedy, who made history when he connected the brain of a paralysed man to a computer in the 1990s. In 2014, he stunned his peers when he agreed to have his own brain implanted to continue his research.
Other Irish titles include Rachel Carey's dark comedy Deadly Cuts, which was previously announced as this year's closing film; Cathal Nally's gangster comedy, Be Good or Be Gone; Tadgh O'Sullivan's To the Moon, which celebrates the night sky over the course of a lunar month; Polish-Irish drama I Never Cry; and dark horror-comedy The Boys From County Hell.
Documentary titles
DIFF's documentary programme includes investigative journalist Radu Ciorniciuc's Acasa, My Home; Viktor Kossakovsky's intimate account of the life of a pig, Gunda; Jerry Rothwell's The Reason I Jump, which explores the personal experience of living with autism spectrum disorder; and Stacey Lee's Underplayed, an examination of gender disparity within the world of electronic music.
Irish director Paul Rice's documentary about the LGBTQ experience in Russia, A Worm In The Heart, will also screen at DIFF. The Documentary competition judges this year include MOMA film curator Josh Siegel and British documentary maker Kim Longinotto.
This year's retrospective will focus on black women filmmakers and include work by Amma Asante and Maïmouna Doucouré, highlighting filmmakers who led the way.
"There is depth and diversity in the new world cinema programme, exciting new talent in the Irish programme and a dynamic documentary section," said festival director Gráinne Humphreys. "I hope that this year's programme will excite and delight both our regular attendees and attract new audiences to this year's celebration of the best of independent cinema."