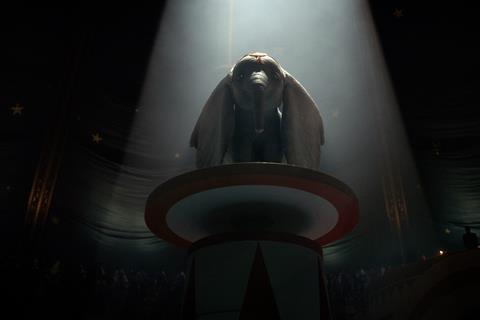 Today's GBP to USD conversion rate: 1.31
| | | | | |
| --- | --- | --- | --- | --- |
| Rank | Film (Distributor) | Three-day gross (Mar 29-31) | Total gross to date | Week |
| 1 | Dumbo (Disney) | £6.1m | £6.1m | 1 |
| 2 | Captain Marvel (Disney) | £1.8m | £32.5m | 4 |
| 3 | Us (Universal) | £1.7m | £6.1m | 2 |
| 4 | Fisherman's Friends (Entertainment) | £629,301 | £4.8m | 3 |
| 5 | What Men Want (Paramount) | £300,000 | £2.4m | 3 |
Disney
Dumbo, Tim Burton's live-action remake of Disney's classic animation starring Colin Farrell and Eva Green, began its UK run with a £6.1m debut from 661 sites, an average of roughly £9,300.
In the canon of Disney's recent spate of live-action remakes, the result falls short of the likes of Beauty And The Beast (£19.7m opening in 2017) and The Jungle Book (£9.9m in 2016), but won't be considered a disaster. The UK opening did outperform the US, relatively speaking, where it opened to $45m, and it's worth noting that the unseasonal good weather in the UK this weekend may have led to some families favouring outdoor activities.
The film may also have been hurt by poor press, with write-ups highlighting the film's darker scenes, as typical of Burton's style, which could potentially have been off-putting for family audiences.
Nonetheless, many UK schools break up for a two-week Easter holiday from this weekend, and the country's weather looks forecast to take a downward turn in the coming days – those factors could see Dumbo build to a sizeable total yet. However it will face competition in the coming weeks from family-targeted titles including Lionsgate's Missing Link, Paramount's Wonder Park, and Entertainment One's Peppa Pig: Festival Of Fun.
The totals of Beauty And The Beast (£72.4m) and The Jungle Book (£46.2m) look unattainable, however, meaning Disney will already be looking ahead to the likes of The Lion King and Aladdin later this year.
Director Burton has some strong history at the UK box office with comparable titles to Dumbo - Alice In Wonderland, another remake of a classic Disney property, opened to £10.6m in 2010 and closed at £42.6m. Further results from recent Burton films include Miss Peregrine's Home For Peculiar Children (£3.5m opening, £12.3m) and Frankenweenie (£741,683, £2.4m).
Also for Disney, Captain Marvel fell to second, adding £1.8m, down 48% on last weekend for £32.5m to date.
Universal
Us sat third in the chart after its second weekend on release, dropping 48% with £1.7m. Including mid-weeks, the film has taken £6.1m in the UK.
How To Train Your Dragon: The Hidden World added £123,010 for £19.3m to date. Everybody Knows is up to £426,997 in the UK.
Entertainment Film Distributors
For the second week running, Fisherman's Friends posted the best drop of any film in the top ten, falling 35% (a drop that reflected the rest of the chart as the UK experienced some unexpected good weather) with £629,301. The film is now up to £4.8m after three weeks, and looks set to comfortably pass the lifetime of comparable UK comedy Finding Your Feet (£5.8m).
Paramount
What Men Want added £300,000 this weekend for £2.4m to date. Instant Family added £135,000 for £10.5m so far.
Lionsgate
Fighting With My Family grossed £188,592 this weekend, taking it to £5.6m to date.
The Vanishing, Kristoffer Nyholm's UK drama starring Gerard Butler, Peter Mullan and Connor Swindells in the story of three lighthouse keepers who discover a hidden trunk of gold, opened to £6,864 from a limited release of 25 locations. The film played at Sitges and Glasgow film festivals.
Studiocanal
In its second weekend, The White Crow held well with a 36% drop, only one percentage point off the best hold in the top ten. The film took £141,958 from 131 sites, an average of £1,659 per location. Its total to date is £659,669
Warner Bros
The Lego Movie 2 is up to £18.2m after adding £139,000 this weekend.
Entertainment One
Green Book is up to £9.8m after adding £92,009. On The Basis Of Sex is up to £1.5m.
Curzon
At Eternity's Gate, starring Willem Dafoe as renowned painter Vincent Van Gogh, opened in 34 sites this weekend (Curzon's own plus a selection of indie venues and some Everyman sites) and grossed £55,566, a decent site average of around £1,600.
Picturehouse
Carol Morley's latest feature Out Of Blue, starring Patricia Clarkson as an LA cop, opened in 46 sites with £40,128, an average of a little over £850 per location. With previews of £29,900, the film is up to £70,040.
Morley's previous feature, The Falling, opened with £144,370 in 2015 and closed on £413,917. Her documentary Dreams Of A Life grossed £179,125 back in 2011.
Munro Film Services
UK low budget comedy Eaten By Lions, which premiered in Edinburgh last year, grossed £30,576 this weekend from 93 locations, an average of a little under £350 per site. With previews, the film is on £31,806.
Arrow Films
Jonas Åkerlund's UK-Sweden-Norway horror about a Norwegian Black Metal band, Lords Of Chaos, took £23,203 on its UK debut from around 80 sites.
Sony Pictures
A Dog's Way Home is up to £2.1m in the UK.
Yash Raj
Hindi romance Notebook opened in 18 sites this weekend, taking £9,150.
Altitude
Being Frank: The Chris Sievey Story, the documentary about comedian Frank Sidebottom, took £8,105 on its opening weekend from a limited release – it's screen average was £603. With previews, the film is on £21,390.
New Wave
Jafar Panahi's 3 Faces, In Competition at Cannes last year, was released in 11 screens this weekend, taking £6,616. The film had a further £688 in previews.