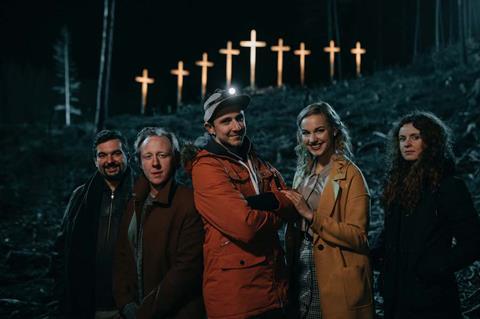 Netherlands-based sales company Dutch Features Global Entertainment has boarded worldwide sales on Czech horror-comedy Shoky & Morthy: Last Big Thing.
The film will have its festival premiere in Karlovy Vary's Midnight Screenings strand on Sunday, August 22.
It was released in the Czech Republic on August 5, grossing $80,404 in the territory on its opening weekend.
The film is produced by Vratislav Slajer and Jakub Kostal from Prague-based production firm Bionaut. The company's previous output includes web series #martyisdead, which became the first Czech series to be nominated for and then win an International Emmy in the US in September 2020, for short-form series.
Shoky & Morthy stars Stepan Kozub and Jakub Stafek as two reckless boys whose dwindling YouTube career is about to change forever due to a motorway accident, near a mysterious place called The Nine Crosses.
Director Andy Fehu wrote the script with Ondrej Kopriva, with Fehu and Jakub Sevcik of Czech Republic's Snake Catcher also producing the film.
Karlovy Vary Film Festival begins on Friday, August 20, running until Saturday, August 28.