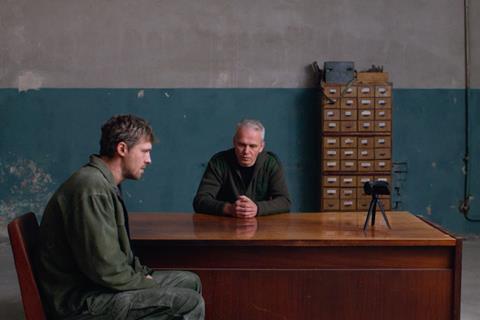 Edinburgh International Film Festival (EIFF) has unveiled its industry programme, running from August 16-19, including a repositioning of the Works in Progress strand as well as a raft of new training opportunities for curators and producers.
This year, the previously UK-focused Works in Progress strand will open up to include both documentary and fiction projects from Ukraine. With support from the British Council and in partnership with the Ukrainian Institute, four Ukrainian project teams will be welcomed to Edinburgh to present their work.
As part of this partnership, two Ukrainian feature films have been added to the Special Events strand of the festival's programme. Valentyn Vasyanovych's feature Reflection follows a Ukrainian surgeon trying to navigate ordinary life after a period in captivity at the hands of the Russian military in eastern Ukraine. Volodymyr Tykhyy's One Day In Ukraine looks at contemporary life in Ukriane, seen through the daily routines of three separate groups of citizens.
EIFF Talent Lab
Now in its 11th year, the Talent Lab takes place from August 17-20, and provides emerging talent with the chance to learn from key industry players across a four-day residential course. Industry guests include representatives from Altitude Films, Bankside Films, BBC Film, Cornerstone Films, Film4, Mubi and Sky.
The 2022 Talent Lab participants are producers Adam Smith, Alexander Handschuh, Angela Gourley, Danielle Goff, Hugh Mann Adamson, Jennifer Corcoran, Lena Vurma, Mark Lacey, Nan Davies, Natalie Louise, Ryan Bennett, Siobhan Fahey and Sophie Freeman.
The writers and directors participating are Alia Ghafar, Avril Evans, Debora Bottino, Dhivya Kate Chetty, Jessi Gutch, Leyla Josephine Coll-O'Reilly, Maryam Hamidi, Niamh McKeown, Paul Sng, Rory Power-Gibb and Lucy Rose.
Dan Shaw, Gillian McCormack, Kefi Chadwick, KT Roberts, Nathalie Ahmadzadeh and Rachelle Atalla comprise the screenwriters.
Producer mentors
The new Talent Lab mentors programme is running as part of the 50th anniversary of the Women's Film Festival, EIFF's global film event in 1972 that was entirely dedicated to the cinematic achievements of female directors. It offers Talent Lab programme alumni producers a mentoring partnership with international sales agents to help them develop and internationalise their slates.
The selected producers are Emilie Jouffroy, Alysia Maciejowska, Rebecca Mark Lawson, Lauren Parker, Margarita Veberaite and Dominique Webb. The mentors are Sophie Green (Bankside Films), Carla Quarto di Palo (Cornerstone Films), Cate Kane (Mubi), Debra Liang (LevelK), Pascale Ramonda, and Leslie Vuchot (The Festival Agency).
Screenwriting
Script Starter supports eight emerging screenwriters. The selected participants will be helped in the development of their ideas into either a short film script or a feature film treatment. The selected Script Starter participants are Bircan Birol, JD Stewart, Kirsty McLean, Nazia Mohammad, Scott Lyons, Louise Oliver, Sophie Peacock and Eleanor Capaldi. Project development support will be led by producer Carolynne Sinclair Kidd of Hopscotch Films, with each workshop inviting writer and script editor guest speakers, including Kate Leys, Anna Seifert Speck and Paul Fraser.
Curation
The EIFF and Curate-It fellowship is a brand new 12-week online curatorial training programme, in partnership with film distributor Aya Films, for seven early career programmers. The programmers will develop an online programme, curated in response to the 50th anniversary of the Women's Film Festival, using the Curate-It film curation training app.
The Curate-It participants are Camila Arriaga Torres, Maria Wrang-Rasmussen, Wacera Kamonji, Chloe Charlton, Indigo Korres, Jennifer Pert and Joanne Lee.
The inaugural EIFF curatorial commission and mentoring programme will see three mid-career Scottish or Scotland-based programmers develop a programme for public presentation. The one-to-one mentoring programme pairs the programmers with a leading professional.
The mentors are awards, publicity and marketing strategy consultant and former Bafta New York CEO Julie La Bassiere; senior director of film programmes at the Academy Museum of Motion Pictures Bernardo Rondeau; and festival director of Sydney Film Festival Nashen Moodley. The three curatorial commission participants are Camilla Baier, Rachel Pronger and Lauren Clarke of archive activist film collective Invisible Women, Xuanlin Tham and Myriam Mouflih.
Sessions
Further industry highlights include a case study on the company behind EIFF programme title Shadow, Back To Back Theatre – a company with an ensemble of actors with disabilities, who will appear in conversation to discuss their internship programme supporting talent with disabilities.
'Is this a story I can tell?' is a session in partnership with the National Film and Television School (NFTS) Scotland, that will explore the considerations and responsibilities of screenwriters when telling stories that aren't from their own lived experience.
The 'Meet the UK Global Screen Fund' session, in partnership with the British Film Institute (BFI), will introduce the team and present information on international development, co-production, distribution and promotional opportunities for the UK's independent screen sector.