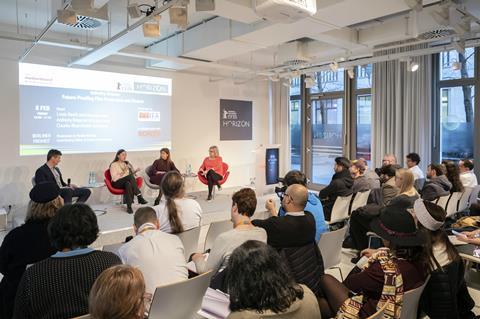 Filmmakers need to be smart about navigating the market and adopt a more open-minded approach to content if they are to survive today's stormy independent waters, an EFM panel heard on Friday.
Noting how the theatrical market has been "crashing" for 10 years, producer Anthony Bregman of Likely Story told the session, Future-Proofing Film Production and Finance, to venture into new forms of storytelling.
"We're not after filmmakers all the time," said Bregman, whose credits include Eternal Sunshine Of The Spotless Mind and Foxcatcher. "[A piece of content] could be an independent film, it could be a streaming film, it could be a series, it could be a web series."
The key lay in interpreting algorithms, which was the theme of Bregman's opening keynote and could, he said, be interpreted broadly to mean anything from research and data to financiers' hunches, or blind prejudice.
He said Ang Lee's 1993 rom-com The Wedding Banquet, for example, would sell for "a fortune" on the market today in light of the success of Crazy Rich Asians.
Producer-financier Claudia Bluemhuber, managing partner at Silver Reel which backed Glenn Close drama The Wife and is exploring short-form content, noted how systemic changes have ravaged the traditional model. "We see distributors really struggling and they're the backbone of the independent market… The market's become much more volatile if you're not working for Netflix or Amazon Studios."
Streamers have wreaked havoc with valuation of content, and driven up asking prices on packages, making them even harder to obtain at pre-buy stage. A new EU directive obliges SVOD platforms operating in Europe including Netflix to carry 30% European content.
"[S]o that means a lot of commissioning and purchasing of old content," said Linda Beath, consultant and financing expert at Ideal Filmworks Italia. "In the best case we get a load of money thrown at us and in the worst case we don't know what to do with it."
Additional reporting by Geoffrey Macnab