Two of this year's group have films playing at the festival.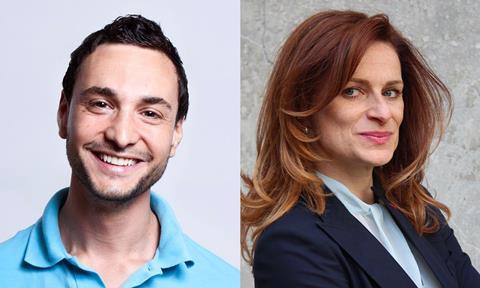 The UK's Chris Martin, Switzerland's Ivan Madeo [pictured, left] and Poland's Maria Blicharska [pictured, right] are among the 20 up-and-coming European producers to be selected for the 2017 edition of European Film Promotion's (EFP) networking platform Producers On The Move, which takes place at Cannes Film Festival.
As in previous years, the five-day event (May 19-23) will include pitching sessions, one-to-one meetings, case studies and other meetings with the international industry gathered in Cannes.
Two of the producers from this year's line-up have films in the festival's programme: Poland's Maria Blicharska will be presenting Frost in the Directors' Fortnight sidebar, while France's Didar Domehri was a co-producer on Argentinian director Santiago Mitre's La Cordillera which will have its world premiere in the Un Certain Regard section.
Producers on the Move (PoM) from previous editions of the initiative also regularly return to Cannes with films, sometimes co-produced with participants from the initiative. This year, for example, Ruben Östlund's The Square has been produced by Erik Memmendorff (PoM Sweden 2009) with Katja Adomeit (PoM Denmark 2015).
Cannes' Official Competition section will feature Victoria Petranyi (PoM Hungary 2003) with Kornél Mundruczó's Jupiter's Moon and Patrick Quinet (PoM Belgium 2003) with his co-production of Jacques Doillon's Rodin, while German producer Nicole Gerhards of Berlin-based Niko Film (PoM 2012) has two films showing on the Croisette: the co-productions Until The Birds Return by Karim Moussaoui in Un Certain Regard and Eric Caravaca's Plot 35 as a Special Screening.
Other European producers who have taken part in the EFP initiative in the past include Toni Erdmann's Janine Jackowski, Romania's Anca Puiu and Ada Solomon, Macedonia's Labina Mitevska, Belgium's Diana Elbaum, and Ireland's Conor Barry.
2017 EFP Producers On The Move
Bosnia and Herzegovina: Zoran Galić
Bulgaria: Mila Voinikova
Czech Republic: Pavla Janoušková Kubečková
Denmark: Ditte Milsted
France: Didar Domehri
Georgia: Lasha Khalvashi
Germany: Verena Gräfe-Höft
Iceland: Anton Máni Svansson
Ireland: Alan Maher
Italy: Tommaso Bertani
Latvia: Gints Grube
The Netherlands: Julius Ponten
Poland: Maria Blicharska
Romania: Iuliania Tarnovetchi
Serbia: Jovana Nikolić
Spain: Carlo D'Ursi
Slovak Republic : Katarína Krnáčová
Slovenia: Petra Vidmar
Switzerland: Ivan Madeo
United Kingdom: Chris Martin