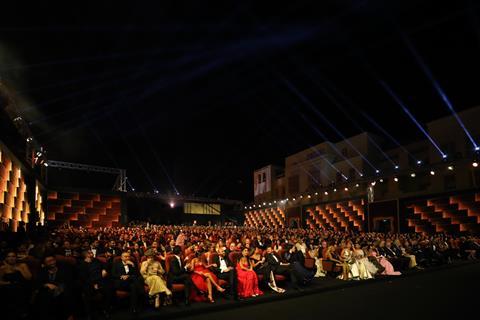 Egypt's El Gouna Film Festival (GFF) has pushed back the dates of its fourth edition by a month to October 23 to 31, against its previously announced slot of September 24 to October 2.
The festival management team said it was responding to the challenging circumstances faced by all international film festivals amid the ongoing Covid-19 pandemic.
The festival will be the first public event to take place at the resort's new El Gouna Conference and Culture Centre (GCCC), which features a large open-air space created for the staging of open-air cultural and cinematic events.
The management team said it was currently exploring options to use indoor and outdoor spaces for physical onsite events in a way that complies with Egypt's Covid-19 hygiene guidelines. It added that some activities could also run online, in particular components related to its industry and project focused CineGouna Platform.
The programming team has continued to work throughout the pandemic. It said that more than 800 projects in development and films in post-production have been submitted to the festival and its industry platform to date.
COO and co-founder Bushra Rozza said: "Our team participated in the virtual Marche du Film, not only to meet sales agents and producers to source their films, but also to study the experience of a digital-only film market. Furthermore, the members of the team will be attending the fall festivals to bring to the region the best and newest crop of films."
The autumn is traditionally a busy time on the Middle East's growing film festival circuit.
The Cairo International Film Festival (CIFF) confirmed earlier this month that it would be pushing on with its announced dates of November 19 to 28 as planned. Morocco's Marrakech International Film Festival, which set November 13 to 21 dates this year, has yet to make any pronouncements on its Covid-19 era plans.