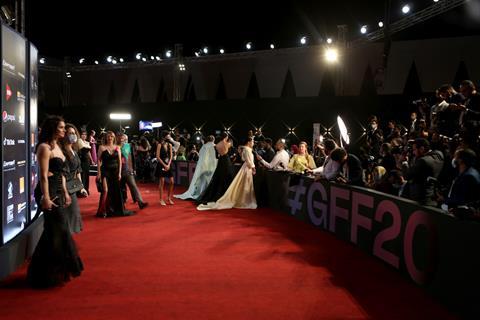 Disaster nearly struck Egypt's El Gouna Film Festival after a fire ripped through the red-carpet area around its main open-air auditorium, some 36 hours before its opening ceremony this evening (October 14).
Local civil defence forces quickly brought the blaze under control and no one was seriously injured. An investigation is now going on into the cause, which is believed to be a short circuit.
As images of the red carpet in flames hit social media and WhatsApp groups, the festival sent out a photo showing that order had been restored, along with a press statement confirming and that the opening would go ahead as planned. Running October 14-22 against the backdrop of its namesake Egyptian Red Sea resort, the El Gouna Film Festival marks its fifth edition this year.
It kicks off a busy autumn festival and industry event calendar for the Middle East and North Africa, also featuring the Doha Film Institute's Ajyal Film Festival (Nov 7-19), Marrakech's online Atlas Workshops (Nov 22-25), Cairo International Film Festival (Nov 26-Dec 5) and Saudi Arabia's inaugural Red Sea International Film Festival (Dec 6-15).
Reaching this fifth anniversary is no mean feat for the El Gouna team. A number of film festivals have come and gone in the region over the past decade and there was some scepticism in the international cinema community when Egyptian tycoon Naguib Sawiris first announced the creation of the event in 2017 against the backdrop of the luxury resort founded by his brother Samih Sawiris.
The festival team led by director Intishal Al Tamimi, artistic director Amr Ramses and actress and producer Bushra Rozza – who was one of the key co-founders – has stayed the course.
El Gouna has developed into a distinct event that unashamedly mixes extravagant red carpets, frequented by the leading lights of the Egyptian film and TV star system, with a serious film programme showcasing the best independent Arabic-language productions of the previous 12 months as well as a raft of international A-list film festival titles.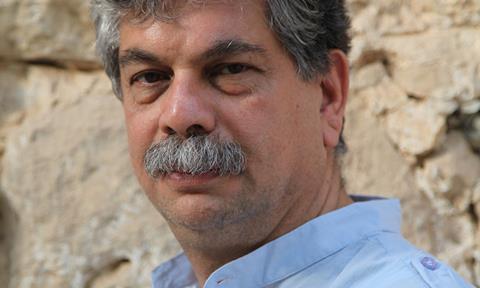 "The festival is growing and we as a team are more relaxed and confident about what we're doing," said Al Tamimi. "It's also become a bit easier for us. For the first and second editions, we'd send a request for a film and wait a month for a reply. Now, in 95% of cases, we receive links within 48 hours.
"The team managed to watch 20% of the Cannes programme, before it screened in Cannes, 40% of Venice, before Venice and all of Locarno," he continued. "International producers and distributors have come to trust us and view El Gouna as a good place to show their films."
Beyond the short-lived drama of Wednesday's red-carpet fire, the main logistical challenge for Al Timimi and his team this year has been putting together a festival against the backdrop of the Covid-19 pandemic for a second year running.
"It's still a very challenging year for us but compared with last year it's a much better situation. Last year, we were one of the few festivals to hold a physical edition and the first in the Arab world, following on from Venice.
"This year, we have the vaccine which has been a game-changer. We have record attendance by the media and all the short films and documentaries will be accompanied by their directors and most of the films in competition will be accompanied too, especially those hailing from the Arab countries. The biggest impact has been on the [industry-focused] CineGouna Platform programme, where international attendance has been impacted by changing travel restrictions but we'll still have a community of some 130, 140 physical attendees."
2021 selection
The fifth edition will showcase 52 features from 36 territories and another 23 shorts from 34 countries this year. A total of 16 films will compete for El Gouna's $50,000 Golden Star award for best narrative film as well as other prizes.
Al Timimi is particularly proud of the five Arabic-language contenders. Three screened in Cannes: Moroccan director Nabil Ayouch's 2021 Cannes competition title Casablanca Beats, Directors' Fortnight selection The Sea Ahead by Lebanese filmmaker Ely Dagher and Critics' Week winner Feathers by Egypt's Omar El Zohairy.
Amira by Egypt's Mohamed Diab and Costa Brava, Lebanon by Mounia Akl debuted in Venice, in Horizons and Horizons extra respectively.
"Our aim is to show the best Arab cinema to local audiences and our international guests as well as a selection of international titles from the top festivals. We limit the percentage of Arabic-language films in competition to 30% of the selection. This year all our Arab competition titles make their MENA premiere here," said Al Tamimi.
Non-Arabic language competition titles include French director Stéphane Brizé's Another World and a slew of 2022 best international film submissions including Cambodia's White Building and Finland's Compartment No. 6.
While all the titles have previously played at one of the A-list festivals, Al Tamimi emphasised the selection team does not take its cue from these events.
The Sea Ahead participated in El Gouna's CineGouna Springboard project incubator event in 2019, winning the prize for the best project in development, and Costa Brava, Lebanon and Amira were also past participants. The fifth edition of the initiative is showcasing another 20 projects in development or post-production this year.
"These are our discoveries and we're proud of the fact these films have chosen to come to us rather than screen elsewhere," he said.
Artistic director Ramses also noted the festival selected French director Audrey Diwan's abortion drama Happening a month and a half before it scooped the Golden Lion in Venice. It plays out of competition alongside 20 other titles which also include Zhang Yimou's One Second, Marta Schrader's I'm Your Man, Dénes Nagy's Natural Light and François Ozon's Everything Went Fine.
Ramses acknowledges the subject matter of Happening is touchy in Egypt, where abortion is currently illegal, pushing women who can afford it to use unofficial private clinics instead. "Socially it might be a bit controversial but it's a really relevant topic and that's why we make films and festivals," he says.
Outside of the main competition awards, the festival is also launching the new $10,000 Green Star award aimed at features that raise awareness around environmental issues. Films eligible for the inaugural edition include Cyril Dion's Animal, Flore Vasseur's Bigger Than Us, Invisible Demons, Silence Of The Tides and Costa Brava, Lebanon.
Further parallel prizes include the Cinema for Humanity award, aimed at films tackling humanitarian themes. Films in the running include Danish director Jonas Poher Rasmussen's animated Afghan refugee drama Flee and Hogir Hirori's Sabaya about efforts to save Yazidi girls and women captured by ISIS.
Other highlights of the film programme include a retrospective devoted to the work of Polish director Krzysztof Kieslowski to mark the 25th anniversary of this death, showing freshly restored copies of his Three Colors trilogy and The Double Life Of Veronique.
"The prints were restored last year. One of the titles screened in Cannes Classics this year [The Double Life Of Veronique] but for the rest, it's the first time they're screening globally," said Al-Timimi.
Polish actor Zbigniew Zamachowski, who played Three Colors character Karol Karol, will participate in an in-conversation event to discuss his experiences working with Kieslowski as part of the industry-focused CineGouna Bridge talks line-up.
Further highlights of that programme will be an in-person masterclass with US director Darren Aronofsky and an in-conversation event with Palestinian actor Mohamed Bakri who will receive a career achievement award at El Gouna this year alongside Egyptian acting star Ahmed El Saka.