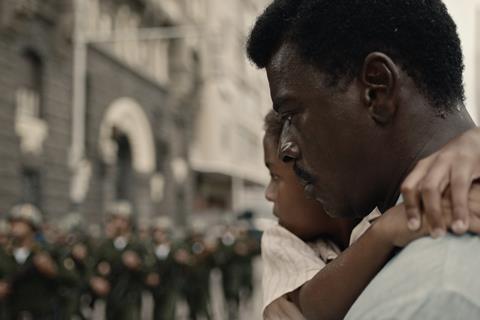 Elle Driver has acquired international sales rights to Brazilian Narcos actor Wagner Moura's politically-charged biopic Marighella, ahead of its premiere at the Berlinale (Feb 7-17).
Set against the backdrop of Brazil in 1969, in the early years of the military regime that would remain in place until 1985, the film revolves around legendary revolutionary leader Carlos Marighella.
Brazilian singer and actor Seu Jorge, best known for his roles in City Of God and The Life Aquatic, plays a 57-year-old Marighella as he joins guerrilla fighters some 30 years his junior in efforts to overthrow the authoritarian regime.
"Marighella is a film that talks about the Brazilian people's unending fight for progress as well as the general struggles of a people known for being fighters and hard workers - always able to overcome," commented Jorge.
The feature marks a directorial debut for Moura, who is best known internationally for his Golden Globe-nominated performance as Pablo Escobar in the hit Netflix series Narcos.
The actor has been a regular guest at the Berlinale over the years, most notably in the lead role of José Padilha's crime drama Elite Squad, which won the Golden Bear in 2008, and more recently with Karim Aïnouz's Futuro Beach.
Political relevance
Moura emphasised his directorial debut's relevance today given recent political developments in Brazil, where far-right politician Jair Bolsonaro was sworn in as president on Jan 1.
"Because of the current moment we are experiencing in Brazil, this is a story that everyone wants to tell. I want people to see Marighella as a role model for resistance, a man who gave his life for others - for a cause," said Moura.
He also raised fears for Brazil's once vibrant arts and culture scene. "There is a campaign against culture, people are painting artists as criminals. Campaigning against culture is fighting an essential civilising tool. And then there are those who think that history needs to be rewritten. Our film comes at a time when history is being questioned. To launch it now is a kick to the stomach," he said.
Moura co-wrote the Portuguese-language screenplay with compatriot writer and director Felipe Braga, whose previous writing credits include Stephen Daldry's Bafta-nominated drama Trash.
He also takes an executive producer credit alongside Bel Berlinck, Andrea Barata Ribeiro and Fernando Meirelles (City of God), who are producing under the banner of their production company O2 Filmes.
Created in 1991 by Meirelles, Ribeiro and Paulo Morelli in 1991, the award-winning company has produced some 30 feature films, including City Of God, Trash and Blindness, as well as another 30 TV series.
Globo Filmes, the feature film arm of Brazilian media giant Grupo Globo, is also on board as co-producer. The film division has produced or co-produced more than 200 films since its creation in 1998, including City of God, Elite Squad and Aquarius.