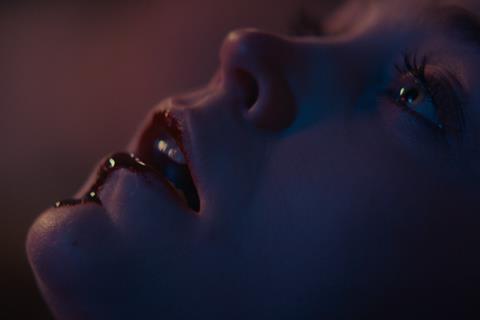 Paris-based Elle Driver will launch worldwide sales excluding Canada next week on Toronto International Film Festival (TIFF) selection and vampire dark comedy Kicking Blood.
Blaine Thurier directed the feature from New Real Films and Generativity Productions which receives its world premiere in Contemporary World Cinema on September 10.
Alanna Bale stars as a modern-day vampire who falls for a charming recovering alcoholic and resolves to quit drinking blood and become human again. Luke Bilyk, Vinessa Antoine, Ella Jonas Farlinger, Ben Sutherland and Rosemary Dunsmore round out the principal cast.
Thurier co-wrote the screenplay to Kicking Blood with Leonard Farlinger. Jennifer Jones of New Real Films produced the feature and the executive producers are David Aboussafy, John Bain, Dave Hudakoc, Danielle and David Henderson. LevelFILM will distribute in Canada.
"We wanted to make a meaningful film about the human side of vampires: What do they say about us, about our desires, our appetites, our fears and weaknesses?" said Thurier, a founding member of rock band The New Pornographers who attended TIFF with Low Self-Esteem Girl in 2000, Male Fantasy in 2004, A Gun To The Head in 2009, and Teen Lust in 2014.
"Vampires suffer through an eternal cycle of murder, getting high off their victims' blood, and suffering blood hangovers. But for our protagonist, Anna, the emptiness, loneliness, and futility of immortality surfaces after centuries of bloodshed and she starts on a journey to recovery and back to humanity. Kicking Blood approaches this journey with respect while still reflecting the humour in all of it."
The film shot in Sudbury, Ontario, in 2020 when the region was in total lockdown. "We observed all Covid-19 protocols with extreme vigilance but we also found that the quiet, empty streets lent our exteriors a lonesome atmosphere," added Thurier. "The pandemic and lockdown fit our themes of disconnection and isolation in a beautiful, poetic way."