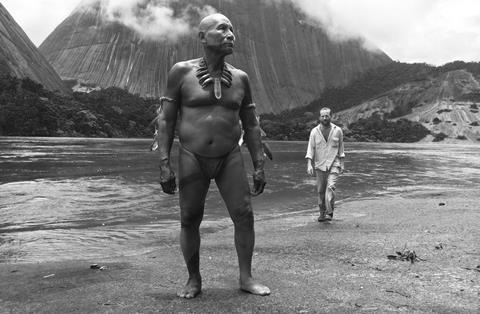 The filmmakers behind Colombian Oscar nominee Embrace Of The Serpent have highlighted the threat to indigenous Amazonian communities as it emerged that Antonio Bolívar, who played a shaman in the drama, has died after he was admitted to hospital with coronavirus symptoms. He was 72.
Bolívar died on Friday (May 1) in Leticia, a southern Colombian town on the border with Brazil and Peru near the Amazon River, according to a report in The City Paper Bogota. He is survived by his wife Celina and son Pedro.

The virus has reached the Amazon region and there are fears that a lack of hospitals and emergency services in the interior will further imperil endangered communities.

"Antonio was not only our dear friend and honourary grandfather, but he was a teacher and master to us all, one of the last men of knowledge of the Ocaina and Huitoto peoples, who became a symbol for the traditional wisdom of the Amazonians," Embrace Of The Serpent director Ciro Guerra and producer Cristina Gallego told Screen on Tuesday (May 5).
"With him dies a part of the legacy, the history and science of these tribes, who have managed to live in harmony with nature for generations, transmitting their knowledge through oral tradition. He died in the way these communities are dying, left behind unattended by the government that is supposed to care for them. The arrival of Covid-19 in the Amazon is a grave danger to the Amazonian people and specially their elders, who have no medical resources or ICUs to help them survive."
Bolívar played the shaman Karamakate who guides anthropologists in search of an Amazonian healing plant in Guerra's Cannes Directors' Fortnight 2015 selection.
The actor and translator of Amazonian languages also appeared in the Colombian Netflix crime series Green Frontier, on which Guerra directed an episode. Screen understands a fundraising effort linked to the show is underway to support Amazonian communities.
After premiering on the Croisette, Embrace Of The Serpent earned an Oscar nomination the following year in what was then called the foreign-language film category.