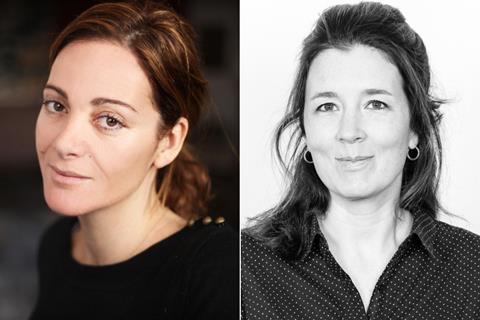 French director Émilie Frèche's In A Perfect World, about a couple who end up on the wrong side of the law when they help a young illegal migrant, has won the top prize for a fiction film at the debut edition of the French Cinema for Change co-production market.
An initiative of the Paris-based Le Temps Press film festival, the inaugural edition of the co-financing event ran April 7-8, with the aim of finding partners for film, TV and digital projects that raise awareness around environmental and societal issues.
Benjamin Lavernhe and Julia Piaton co-star in Frèche's film, which is set in the Alpine city of Briançon on the French border with Italy. It is inspired by the true story of French people who found themselves facing a 10-year sentence on charges of people trafficking after helping illegal immigrants for humanitarian reasons.
It is produced by Laëtitia Galitzine at Chapka Films in co-production with Echo Studio, a French production company created in 2016 with a remit to support socially and environmentally engaged content. It won the €2,000 Commune Image award aimed at post-production.
It was among 15 projects showcased in the Cinema for Change market, spanning five documentaries, six features, one animation feature and three documentary series,
The other fiction features included Cédric Ido's A Starred Dream, inspired by the rags to riches tale of real-life French celebrity pastry chef Yazid Ichemrahen, and Amazon-set drama Amazonia by Germany-based South African filmmaker Pia Marais.
Two documentaries also picked up prizes. Swiss director Frédéric Choffat's The Future Now, produced by Joëlle Bertossa at Geneva-based Close-up Films, won the €4,000 CNC Prize. Russian director Denis Sneguirev won the Cannes Doc Prize for The Zimov Hypothesis, exploring the work of renowned Siberia-based earth scientist Sergey Zimov.
Other feature documentary projects participating in the market included Wim Wenders' Peace By Peace and Aïssa Maïga's Marcher Sur L'Eau about a project to provide a drought-hit village in the West African country of Niger with a regular supply of fresh water.
Aside from the project market, the event also featured a programme of online panels on the burgeoning impact content scene. Speakers included Echo Studio president Jean-François Camilleri and Ukrainian-French filmmaker Anastasia Mikova, who co-directed the 2019 work Women with renowned photographer Yann Arthus-Bertrand.