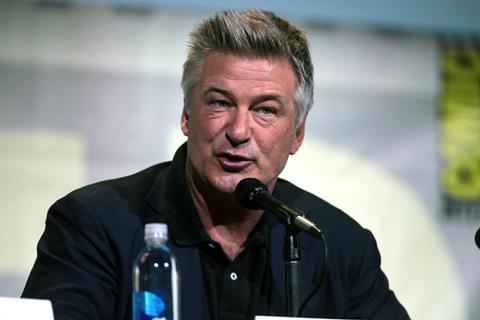 In his first TV interview following the death of Halyna Hutchins an emotional Alec Baldwin insisted he was not to blame for the Rust cinematographer's death and said he did not expect to face criminal charges.
Talking to George Stephanopoulos on the hour-long 'Alec Baldwin Unscripted' broadcast on ABC on Thursday night (December 2) the star recounted how Hutchins herself had guided him on where to point the Colt .45 during a rehearsal on October 21.
The pair were working out the best position to hold the gun. Baldwin said he had received the weapon from assistant director Dave Halls who told him it was "cold" – meaning it did not contain live ammunition – when it unexpectedly went off. "I let go of the hammer. Bang! The gun goes off," he said.
"I didn't pull the trigger. I would never point a gun at anyone and then pull the trigger. Never."
The actor, who is also one of the producers on the western, broke down several times during the interview. "There's only one question that needs to be resolved, just one: where did the live round come from?
"Someone put a live bullet in a gun, a live bullet that wasn't even supposed to be on the property," he said. "Someone is responsible for what happened, and I can't say who that is, but I know it's not me."
The Hollywood veteran said after Hutchins fell to the ground he thought she might have fainted and was then ushered out of the church on the Bonanza Creek Ranch set in Santa Fe, New Mexico, while medics rushed to attend to the fallen crew member.
He said it was not until around 45 minutes later when the thought occurred that the Colt .45 might have contained a live round. Hutchins was transported to hospital and died later. Director Joel Souza received a shoulder injury and was later discharged from hospital.
Baldwin poured cold water on an assertion by armourer Hannah Gutierrez Reed's lawyer Jason Bowles that someone sabotaged the production and put a live round in a can of dummy rounds. Bowles has also claimed his client is being framed for the death.
Crew members have filed two lawsuits against Baldwin, the producers and others but Baldwin said as a creative producer who was not responsible for hiring crew or overseeing gun safety he felt it was unlikely he would face criminal charges.
He told Stephanopoulos he had decided to give the interview to clear up "a lot of misconceptions" and did not want to wait for the investigation and subsequent processes to run their course.
Baldwin said following the death he took Hutchins' husband and nine-year-old son to dinner and attended the memorial service. He said Hutchins was a friend. With regard to his own immediate future he said he was prioritising his own family and "could give a shit about my career anymore". He added, "I can't imagine that we would do a movie that had a gun in it ever again. I can't."
On Thursday morning prop supplier Seth Kenney appeared on Good Morning America and denied his company PDQ Arm & Prop, LLC supplied live rounds to the set. It emerged on Monday that in an interview related to a request for a search warrant for PDQ Arm & Prop LLC Thell Reed, an armourer and father to Hannah Gutierrez Reed, said he had supplied Kenney with live rounds for another production over the summer and said the ammunition may match the live rounds found on the Rust set.
Santa Fe Sheriff's Office is investigating the case and there have been no charges at time of writing.