Details of redevelopment at the flagship venue in London's Leicester Square kept under wraps.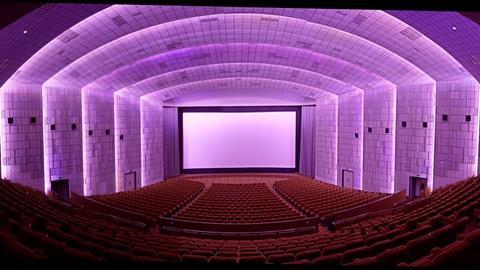 Empire Cinemas is set to reveal more information about the redevelopment of 'Screen 1' at its flagship venue in London's Leicester Square – but not until next week.
Screen 1 is one of the largest non-IMAX cinema screens in the UK, with 1,330 seats, and is a regular venue for premieres such as last week's world premiere of One Direction: This Is Us.
But the multiplex cinema chain projected its final film on Screen 1 without fanfare at 9pm on Monday [Aug 28].
Introducing Big Bad Wolves, the closing film of FrightFest, the horror festival's co-director Alan Jones referenced the redevelopment to reassure regular attendees that it would return to the Empire next year.
"The Empire Cinema has been home to Film4 FrightFest for the past five years and it will continue to be so. It is our absolute favourite West End venue," Jones told the audience.
"Although the space we loved so much is being reconfigured for more practical and economic purposes, we have had on-going talks with the Empire management as to how we can continue the FrightFest community atmosphere within their ambitious plans.
"The Empire is changing and so will FrightFest but it's a change we are both embracing with a keen optimism for an exciting future".
But aside from confirming it has been closed for development, a representative for Empire Cinemas told ScreenDaily there would be no further comment until early next week, when it will "share further details".
It is understood that the plans will see Screen 1 converted into several smaller screens.
The Empire at Leicester Square first opened its doors in 1884 as a variety theatre. In 1896, the Lumiere brothers gave the first theatrical performances of a projected film to a paying UK audience at the venue.
In the late 1920s, the Empire was acquired by Metro-Goldwyn-Mayer, who rebuilt it as a movie theatre.
Recording 12 million admissions in its first six years, its longest running film during the Second World War was Gone with the Wind, which premiered at the Empire and screened for four years.
After the war, the Empire re-launched in 1949 and closed in 1959 to install a new projection booth. It reopened in December 1959 with Ben Hur, which ran for 76 weeks.
MGM decided to remodel and refurbish the building in 1961 and architect George Coles designed the 1,330 seat, stadium-style auditorium that remained open until this week.
Empire Cinemas took over the site in 2005. The company owns a further 17 cinemas, comprising 164 screens, throughout the UK.