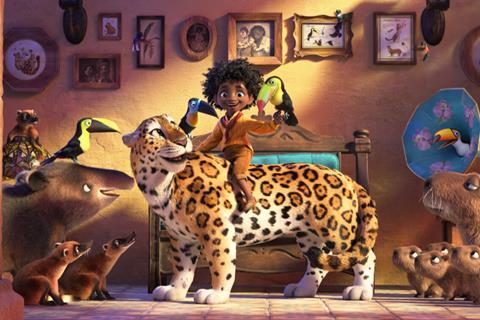 Worldwide box office December 3-5
| Rank | Film (distributor) | 3-day (World) | Cume (World) | 3-day (Int'l) | Cume (Int'l) | Territories |
| --- | --- | --- | --- | --- | --- | --- |
| 1. | Encanto (Disney) | $33.4m | $116m | $20.7m | $58.1m | 50 |
| 2. | Schemes In Antiques (various) | $25.4m | $25.6m | $25.6 | $25.6m | 1 |
| 3. | Ghostbusters: Afterlife (Sony) | $23.4m | $145m | $13.1m | $42.9m | 54 |
| 4. | House Of Gucci (Universal) | $21.5m | $67.2m | $14.7m | $33.6m | 61 |
| 5. | Be Somebody (various) | $13.3m | $117m | $13.3m | $117m | 1 |
Credit: Comscore, all figures estimates
'Encanto' stays top of global chart
UPDATE: Disney animation Encanto retains the global box office top spot in its second week of release, powered by success across multiple markets. The Colombia-set magical tale grossed an estimated $12.7m in North America at the weekend (down 53%), and a confirmed $21.5m for international (down 30%), combining to give an estimated $33.4m haul. Total after two weekends of play is an estimated $116m including $59m for international and an estimated $57m in North America.
In Colombia, Encanto added $2m for a $5.9m running total to rank as the sixth biggest-grossing animated film of all time after just 11 days of play, and the biggest animated title of the pandemic era. Encanto held on to the top spot in multiple territories including key markets France, Italy, Brazil and Mexico.
Among international territories, France leads the way for confirmed cumulative totals with $6.7m, followed by UK/Ireland ($4.4m), Russia/CIS ($3.8m), Italy ($3.6m), South Korea ($3.5m), Japan ($3.4m), Spain ($3.2m) and Mexico ($3m).
Russia, Germany openings boost 'House Of Gucci'
UPDATE: An expanded footprint for Universal/MGM's international release of House Of Gucci saw the Ridley Scott film flourish in its second session, grossing an estimated $15.9m in international markets via Universal Pictures International (UPI) and MGM markets. That combines with a confirmed $6.9m (down 53%) for United Artists' North America release to deliver $22.8m globally. Cumulative totals are $33.7m for both domestic and international, and $68.5m worldwide.
Top new markets were Russia/CIS with an estimated $2.9m and Germany with $1.9m. Both opened at the top of the box office in those territories, delivering market shares of 37% and 35% respectively.
UK/Ireland was the top holdover market with an estimated $1.6m (dropping 49%), retaining the box office crown, and delivering $7.1m after two weekends of play.
House Of Gucci has already grossed more than double the lifetime total of Scott's other 2021 film The Last Duel, which reached a disappointing $29.8m. Key markets yet to open House Of Gucci include Australia, South Korea and Japan (all in January).
UPI reported that Sing 2 earned $1.2m in three number one debuts in its first markets led by $900,000 in Israel. Portugal and Hungary produced $200,000 and $100,000, respectively.
New markets swell 'Ghostbusters: Afterlife' coffers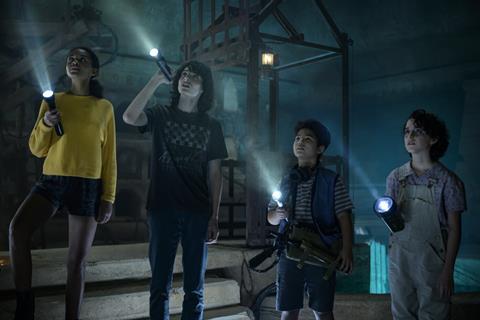 UPDATE: For the first time, weekend box office for Sony's Ghostbusters: Afterlife was bigger in international markets (a confirmed $13.1m) than in North America ($10.4m) – and that's thanks to fresh international territory openings such as Russia/CIS, France and Spain.
North America still dominates in terms of cumulative totals, with $102.2m for the domestic market compared with $42.9m for international. These combine for $145.1m worldwide.
Among international territories, Russia/CIS led the way with a confirmed $2.4m including previews, and France was next with $2m. UK/Ireland topped the holdover territories with $1.4m in its third frame, taking the total to $12.2m.
Upcoming major markets for the Ghostbusters sequel are Australia (January 1) and Japan (February 4).
Ghostbusters: Afterlife and House Of Gucci were both beaten in the worldwide weekend box office chart by Chinese film Schemes In Antiques, which grossed more than $25m in China alone. (See China box office report.) Chinese title Be Somebody (grossing $13.3m at the weekend) rounds out the global top five.
Japan debut lifts 'Venom: Let There Be Carnage'
UPDATE: For the second week in a row, international box office has risen for Sony's Venom: Let There Be Carnage. A week ago, that was due to the film's arrival in Australia, and now it's the turn of Japan to give it a boost.
Venom: Let There Be Carnage grossed a confirmed $9.9m from international markets – up from $8.7m for the previous session. Japan contributed $5.5m of that total.
Cumulative totals for the film are a robust $210.9m in North America, $272.3m for international and $483.2m worldwide.
Venom: Let There Be Carnage is the third biggest US studio film of 2021, after No Time To Die ($763.0m) and Fast & Furious 9 ($726.2m). The film has so far reached 56% of the original Venom's $856.1m global total. Venom (2018) benefited from $269.2m in China, whereas Let There Be Carnage has yet to release there.
'Eternals' overtakes 'Black Widow'
UPDATE: Disney saw Marvel Studios' Eternals add $6.1m internationally for $228.2m. Globally the film has climbed up the global box office rankings for 2021 – but at the expense of its own Black Widow. With $384.3m, Eternals is now the sixth biggest US studio release of the year, after No Time To Die, Fast & Furious 9, Venom: Let There Be Carnage, Godzilla Vs Kong and Shang-Chi And The Legend Of The Ten Rings. Next come Dune ($382.2m) and Black Widow ($379.6m).
There are also three 2021 Chinese films ahead of Eternals (The Battle At Lake Changjin, Hi, Mom, and Detective Chinatown 3), so Eternals is in ninth place overall.