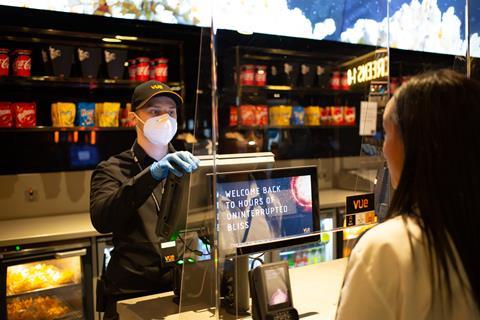 Face coverings and various social distancing measures will remain in place at most of England's cinemas from Monday, July 19, despite a change in the legal requirement to do so, confirm large and small operators.
Cinemas in England can return to 100% capacity screenings from July 19, but exhibitors remain cautious and will retain several measures in a bid to curb the spread of the virus.
Vue Cinemas - the third-largest chain in the UK, with 90 venues – said in a statement issued to Screen: "We have adjusted our protocols, with colleague and customer feedback at the front of our minds. Our staff and customers will be encouraged to continue to wear face masks unless eating or drinking and our enhanced cleaning regime will continue, including disinfecting screens between each session.
"We will also have hand sanitiser for use throughout the site and will be encouraging contactless transactions. We are taking these steps to keep our cinemas safe for everyone."
Cineworld, the world's second-biggest exhibitor which runs 127 cinemas across the UK and Ireland, has updated the guidance on its website to state: "After July 19, social distancing measures will continue to be implemented locally where applicable, in line with government guidance.
"In our cinemas in Scotland, Wales and Ireland, face coverings continue to be mandatory for both customers and employees. In our cinemas in England, face coverings are currently required but will no longer be mandatory from July 19, in line with recent government guidance. However, we are encouraging our employees to continue wearing face coverings and we will continue to provide face masks to our teams."
Showcase Cinemas, which operates 18 venues in the UK and is owned by US firm National Amusements, has confirmed it will retain some social distancing measures. A single unoccupied seat will be positioned between each party that has booked seats at its cinemas in England.
In Scotland, the two-metre rule between guests will be reduced to one metre, as per local government regulations but there will be no change in Wales, where social distancing laws will remain until August 7.
While the legal requirement for visitors to cinemas in England to wear a face covering will be removed from Monday, Showcase is recommending guests continue to wear them and all its staff will continue to wear face coverings in the coming weeks. Perspex screens will remain in place at till points, and hand sanitiser will continue to be made available for guests to use in multiple locations around the cinema.
"We know that coronavirus cases are still rising in the UK, and with the government's easing of restrictions from Monday, we want to give our guests peace of mind at all times when they visit our cinemas," said Mark Barlow, UK general manager for Showcase Cinemas.
Caution over commercial
Smaller chains are being equally cautious. Curzon, which runs 13 venues across England, will retain social distancing in all areas of their cinemas as well as spacing between bookings. Customers will be asked to wear masks in public areas, when not sat in the auditoriums or cafes and bars. Staff will continue to wear face coverings and will encourage customers to engage in the Test and Trace scheme, but this will not be compulsory.
"The removal of Covid restrictions gives us a little bit more flexibility in how we operate, but clearly the pandemic is ongoing, so it is necessary to keep a number of protocols in place to protect our staff and ensure peace of mind for our customers," said a Curzon spokesperson.
London's BFI Southbank will also continue to operate with a reduced capacity during July and August, restricted to 50% occupancy. Similarly, masks will be recommended for the public while mandatory for BFI employees. Pre-booking will also be compulsory while Test and Trace will be "strongly recommended".
On restrictions being lifted in England, BFI head of programme and acquisitions Stuart Brown said: "From a commercial point of view it's obviously going to increase the number of tickets we can sell, and help us continue to build our audiences. However, we've chosen this careful and phased approach to increase capacity in increments over the coming weeks because while many people are keen to return normality, we know that some audiences and staff need more time to build confidence and adjust to the easing of restrictions."
Safeguards and Covid passports
Addressing the approach by the overall sector, Phil Clapp, chief executive of the UK Cinema Association (UKCA), said: "Our members will approach these issues sensibly, aware that some audience members remain cautious. We will continue to work with the government to ensure that the big screen experience remains a safe and enjoyable one, something repeated public surveys have shown is recognised by the overwhelming majority of cinema-goers.
"As a result, we expect some safeguards – such as safety screens, provision of hand sanitisers and the implementation of enhanced cleaning regimes – to remain in place at many sites."
The UK government has also said it will encourage the use of "Covid passports" for large events, held by those who have been double vaccinated, and while there is no suggestion at the moment that this will extend to cinemas, Clapp stated exhibitors would push back against such a measure.
"While it will remain for each individual cinema operator to decide its approach in this area, the overwhelming majority of our members - ranging from the largest multiplex operators to many smaller independent sites - continue to oppose the notion that audiences should be required to show evidence of a double Covid vaccination or negative test before being allowed into their venues," he said.
"UK cinemas have throughout the pandemic repeatedly shown their ability to offer a safe and enjoyable environment, as evidenced by the fact that not a single case of Covid has been traced back to a cinema site, and the extraordinarily positive feedback from those who have returned to the big screen."
The UK government confirmed earlier this week that almost all pandemic legal restrictions in England will be removed on July 19, which has seen cinemas in the country subject to a 50% capacity cap since their reopening on May 17; mandatory face-coverings; and the collection of customer details to support the NHS Test and Trace scheme.
However, with the Delta variant of the virus contributing to a sharp rise in the number of Covid-19 cases, both large and small chains across England are in no hurry to scrap the safeguards, which have ensured that not a single case has been traced back to a cinema.